I Will Act More Controversial Movies--Biola Ige Reacts To Contentious Picture With Muna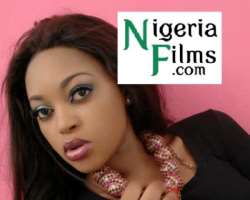 The blogosphere has been bubbling with an explicit picture showing Muna Obiekwe rough-handling the 'oranges' of Nollywood actress, Biola Ige.
Since the piece of photograph hit the internet, the actress has kept a sealed lip on the matter. Even when Nollywoodgists.com contacted her on Friday on the issue, she declined to talk on it, but promised to do so this week.
However, she released a press statement on Sunday to clear the air on the controversial picture making the rounds.
According to her, she is not bothered by it. Biola said she was compelled to react because of her family and fans.
"The photo in question was taken from the set of a movie called "PREGNANT HAWKERS" in which i played a hawker who was in a romantic situation with a man (The actor in the photo). This movie was shot and aired two years ago. The photo circulating the internet right now is the photo from a scene in the movie and NOTHING more. IF you watched the movie you will see that there is nothing to this movie other than the fact that i was playing a role," Biola said in the statement.
"Whoever who maliciously leaked this photo to make it appear to be something else has simply given me some great publicity! Thank you!
"I have been through a lot of difficult things this year with the loss of my mom and a brief illness, that a simple photo from a movie scene from 2 years ago is the least of my worries. I have no further comments regarding this act to hurt my character," the actress added.
Biola also stated that she would continue to act "more movies, and playing more roles to entertain you."