HURIWA Calls For Sack, Arrest And Prosecution Of Interior Minister; CG Of NIS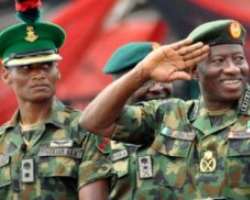 Following the unfortunate death of over twenty job seekers out of the over 6 million candidates who were forced to part with N1000 entry fee for the only little over 4500 available vacancies in the Nigerian Immigration Services on March 15th 2014, a call has gone to the President Dr. Goodluck Jonathan to order the arrest and prosecution by law enforcement agencies of the minister of interior Mr. Abba Moro and the Comptroller General of Immigration.
Making the call in a statement to the media in reaction to the reported deaths across recruitment centers as a result of poor organization which culminated in stampedes, HUMAN RIGHTS WRITERS ASSOCIATION OF NIGERIA [HURIWA] through the National Coordinator Comrade Emmanuel Onwubiko and the National Media Affairs Director Miss. Zainab Yusuf, has also demanded the immediate dismissal of the top officials of the Nigerian Immigration Services and the Federal Ministry of Interior including the minister and permanent Secretary and for their prosecution for negligence which led to the high fatality rate at the ill-fated recruitment exercise by the NIS.
"We condemn in totality, the poor coordination of the job interviews by the federal ministry of Interior and the Nigerian Immigration Services which led to the unfortunate deaths of scores of Nigerian youthful job seekers. We hereby demand the arrest and prosecution for dereliction of duty resulting in mass murders of the minister of Interior and the Comptroller General of Immigration.
...Government must take immediate and comprehensive measures to ensure that there is no repeat of such a disastrous recruitment exercise in Nigeria and we also ask that the Government refunds all the payments made by all the candidates. The Federal Government must also pay heavy compensation of not less than N10 million to the families of each of the dead because their deaths were occasioned by the total official dereliction of function committed by officials of the Nigerian State"