2015: Jonathan is eligible to run—Tapgun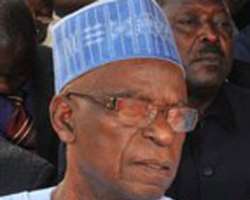 GIVEN that the three  Senatorial districts including the Southern District have produced governors for Plateau State, do you think rotation is still applicable and if so, from where?
When people talk about the Southern Zone having taken a turn, I don't understand. We are talking about a new Plateau State and under the new Plateau State, the Southern Zone is yet to produce a governor.
Even if we, for the sake of argument, refer to late Solomon Lar and myself who are both from that zone and had been governors in the old Plateau State which included the present Nasarawa State, the fact is that our combined periods in office never amounted to two terms of eight years as the Central Zone has had and as the Northern Zone is about to complete.
Lar was governor for four years and even though he was re-elected for a second term, he spent only three months before they were overthrown by the military. So he did not complete his tenure.
When the military were trying to hand over and we came in, I was in office for just one year and eight months and the military seized power again. Following the split of the state into two with the carving out of Nasarawa State and the subsequent hand over to a democratically elected government, the governorship moved to the Central Zone from where Joshua Dariye contested and won.
Shortchange by military
By virtue of what happened under the military, if I wanted to contest at that time (1999), I would have done so and gone ahead to serve eight years because the military took it that our period in office was not counted at all. This was proved when some of my colleagues wanted to contest at that time and they went to court which cleared them. That was why Segun Osoba contested, Abba Ibrahim of Yobe State contested, Jolly Nyame of Taraba State contested and they all served their terms.
So, coming back to your question, virtually nothing has gone to the Southern Zone yet as far as we are concerned. Dariye served eight years, then it moved to the Northern Zone and the incumbent, Jonah Jang is almost going into his eighth year now.
For anybody to say the Southern Zone has had their turn, I think the person in not thinking properly. It is just fair, it is just equitable and natural that the position now should move to the Southern Zone so that the people there can have their turn. That apart, the whole idea behind the rotation of positions from place to place, is for equity, fairness and justice.
So even if we imagine that the Southern Zone has had its turn and the same zone has waited for 16 years will it be fair to take it to any of the two other zones? That is why I said those putting up that argument are out for mischief; they are trying to create unnecessary problems and I don't think we need it in this state.
We should be rational and honest in what we are doing. So in the spirit of fairness, justice and equity, the governorship should go to the Southern Zone this time around.
Some of the arguments that have been advanced is that there is no concrete agreement on the zoning thing and people cite the fact that aspirants from other zones also participated in the contest when those who got it were fighting for it.
Yes, there was no formal agreement on rotation and anybody is free to contest in exercise of his or her rights. But natural justice demands that there should be rotation to ensure that there is fairness to every zone in the state. That was the spirit behind the federal character principle in the constitution.
Speculations are rife that you are interested in contesting the governorship again. Would you want to clear the air?
I cannot tell you yes or no, but we are talking and consulting. At the appropriate time, we will speak on the matter. There is no need to rush.
What do you make of the argument in some quarters that President Goodluck Jonathan should not contest next year's presidential election? Some say he is ineligible to contest having completed late President Yar'Adua't tenure.
When I hear things like that, I just laugh. I don't know why they are saying Jonathan should not contest or that he cannot contest. Yes, he completed late President Yar'Ardua's tenure, but the truth is that he has just completed his own first tenure of four years and the law allows him to contest.
It is for him to decide if he wants to contest for a second term or not. People have gone to court and it was ruled that he is eligible to contest, so the decision is for him to make. The man (Jonathan) has not said he is contesting but people are saying his body language indicates so. I don't know how to read body language, but I know time will come for it and he will tell us if he is contesting or not.
People point to his recent criss-crossing of the country and the rallies as evidence of his interest to contest.
Whatever he is doing is, to my mind, in his capacity as the leader of the party. He must galvanize the party, set the party in motion as we move along because there are elections around the corner – local government, governorship and other elections here and there.
He must keep the party alive as the leader; he must keep his soldiers alert for what is coming. If he eventually decides to run, he will be there and if he doesn't want to run, he would have prepared the ground for someone else to run.
For me, I think the man is well qualified to contest and nothing stops him. So far we've seen the work of his hands and if anyone is sincere to himself, I think we should praise him for what he has done thus far.
Another argument is that the Presidency has stayed long enough in the South and should return to the North.
This thing about coming to the North, I don't know where they are referring to. But what I know is that the office does not belong to any particular group or section of the country.
Eligibility for contest
I think the agreement was that it would rotate between the North and the South. But Jonathan is an incumbent who is eligible in law to contest, but if he says he is not going to contest, then that is a different matter. It can shift to the North then.
The suspension of Sanusi Lamido Sanusi as CBN governor has drawn different reactions especially on its implication for the economy. What is your take on the matter?
This is the problem with us in Nigeria. Every little thing, people turn it into politics. People just want to gain undue advantage in everything.
Sanusi is a public servant appointed by the president and there are rules governing the operations of that place as an institution. Certain bodies were reported to have discovered some anomalies during an audit which they want to clear.
If the president says, ok, step aside for investigations to take place, I don't see anything wrong in that. This is the practice in the public service, I don't know why they are trying to turn it into politics.
- See more at: http://www.vanguardngr.com/2014/03/2015-jonathan-eligible-run-tapgun/#sthash.o9yvenfQ.VQrisQJ5.dpuf