PDM Approves March 17th For Manual Membership Registration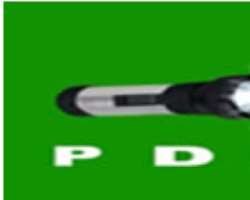 PEOPLES DEMOCRATIC MOVEMENT
No. 4 Paraguay Close, off Panama Street, Minister's Hill, Maitama, Abuja. 080826782333 [email protected] mailto:[email protected]
 
PRESS STATEMENT
  PDM APPROVES MARCH 17 TH FOR MANUAL MEMBERSHIP REGISTRATION
 Peoples Democratic Movement, PDM, has approved Monday, March 17th as the commencement date for its manual membership registration. This decision was arrived at during the just concluded meeting of the National Executive Committee of the Party which took place at the party's National Secretariat in Abuja on Monday, 10th March 2014.
The approval of the March 17th date follows extensive preparations and sensitization for the exercise which is to take place between 8. a.m. and 5 p.m. everyday from Monday, 17th March to Sunday 23rd March 2014 simultaneously at each of the 8,812 wards throughout the states of the federation.
Distribution of registration materials, including membership cards, membership registers, pens, markers and other sundry items is already underway at the National Secretariat of the Party. Registration materials are to reach all states of the federation by Thursday, 13th March and all Registration Centres in the wards by Sunday, 16th March 2014.
It will be recalled that PDM had launched its Online Membership Registration at www.pdm.ng http://www.pdm.ng/ on 15th September, 2013 in Abuja merely a month after the Party was registered by the Independent National Electoral Commission. The online membership registration, which is still ongoing, was received by Nigerians with excitement and high expectations and is the first of its kind in Africa. More than than two million members have already registered online.
The manual registration of members is an extension of the entire membership registration exercise meant to give Nigerians from all nooks and cranny of the country an opportunity to be part of one of the fastest growing political parties in the country. Members who registered online are also to collect their membership cards at their wards during the manual registration exercise.
The Party called on all Nigerians of voting age to seize this opportunity and register en masse to provide the electorate with variety and more choices, which is what democracy is all about.
Signed
 
Ahmed Rufai Abubakar
National Publicity Secretary