NNPC stops Nigerian refineries from functioning - Senator Abe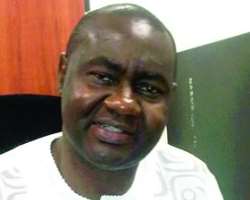 The Chairman, Senate Committee on Petroleum ( Upstream ), Senator Magnus Abe, has lamented the current fuel scarcity being experienced across the country and accused the Nigerian National Petroleum Corporation of deliberately grounding the activities of the nation's refineries.
Abe who spoke with journalists in Abuja on Friday, lamented that many months after the full 'rehabilitation' of the Port Harcourt refinery for instance, the facility had not been functioning despite the huge resources committed to the project.
The senator who represents the Rivers South East in the Upper chamber, noted that the refinery had been very epileptic in its operational since it was rehabilitated, many months ago.
He said, 'Several things were responsible for the non operational state of the refineries. I wont go into details now but the reasons why the refineries are not working are multi-dimensional.
'First, I have accused the NNPC of oil swap and this is part of the reasons why the refineries are not operating optimally because it appears to me now that it is more profitable to swap the oil than to refine it.
'Secondly,  I am yet to be convinced that the maximum efforts needed to make the refineries work is being put in. The nature of NNPC itself is a big challenge.
'The fact that the Turn Around Maintenance which was supposed to be rehabilitation has proved elusive despite all the evidence we had to the contrary, has not achieved its purpose.
'NNPC is a book keeping nightmare. The Port Harcourt refinery refines the oil but they don't own the oil. They are supposed to charge PPMC for what they refine. PPMC does not actually pay them.
'So everybody just transfer figure from one paper to the other and at the end of the day, funds to run the refineries are simply not available.  There are lots of issues and that is why we are working hard with all stakeholders to ensure that the Petroleum Industry Bill come on stream and passed.'
Abe however expressed concern that the hopes of Nigerians that the passage of the PIB would address the problem of the petroleum sector might be a mirage if the NNPC continues with its current attitude.