Orji emerges Chairman S/East Governors' Forum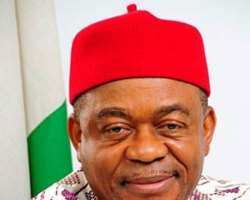 Abia State governor Dr. Theodore Orji yesterday emerged the new chairman of the South East Governors' Forum.
Orji takes over from Governor Peter Obi whose second tenure as governor expires by March 17.
Obi who addressed newsmen after the meeting at the Enugu Government House said the meeting also discussed issues affecting the zone.
Said he; "We just finished South-East Governor's Forum meeting in which some stakeholders were invited to discuss issues concerning the zone.
"You know over the years we have been committed to ensuring that the South East remains and works together as a family in issues that call for development of the South East.
"We also discussed and elected the new chairman for the South East Governors' forum; he is Governor T. A Orji of Abia State.
Orji who also spoke to newsmen said; "You have heard the announcement from the former South East Governors' Forum, the other time when we didn't even discuss the issue most of you went and wrote off record. Today you have heard from the horses mouth and you are now free to write.
"I know its a very big task but with the cooperation of my colleagues I know the task will be very easy to accomplish.
"My pledge is that I will put in my best for the South East as chairman of the Governors Forum to move the zone to the next level."
He called for cooperation of all stakeholders to make his tenure successful.