High-Heels; A Rocking Trend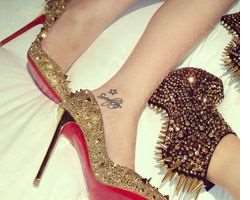 fashionable women never stops looking hot, you tell a woman to show you her shoe collection and you won't see a pair of heels? No way! Its even easier now for Naija chics to follow shoe trends and order via the internet. These days you find Nigerian babes owing expensive shoes worn by celebrities abroad. statistics have shown that women are so obsessed with shoes that even now that most economies in the world are undergoing recession, the sale of shoes rather than decrease have increased. Nigerian ladies are not left out! Trust them to represent all the time.
Gone are the days of old boring shoes like ordinary block heels and ugly mules. Today, high, and indeed very high heeled shoes are what trendy Naija babes are going for, and comfort is no longer as key as the design or designer of the shoes!
A lot of women wear heels, but know little or nothing about its evolution. Many perhaps, are not even interested in the history of shoes,(some are saying as they read this "is that why we are here"?lol.) but for the benefit of the inquisitive ones here's a short history.