Gov. Obi Commissions The Emeka Anyaoku Diagnostic And Dialysis Centre At Iyienu Mission Hospital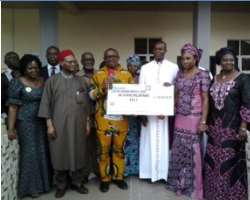 Underlining that "Anambra State Government's partnership with the churches had changed Anambra State," Gov. Peter Obi today commissioned the Emeka Anyaoku Diagnostic and Dialysis Centre at the Iyienu Mission Hospital in Ogidi.
Chief Anyaoku who has raised over N100 million for the hospital towards establishing the centre, was born at the hospital some eighty-one years ago.
Gov. Obi, who announced that Anambra State Government had singularly invested over half a billion Naira in the revitalization of the reference hospital, also announced an additional donation of N100 million to equip the hospital and two buses for its school of nursing.
Gov. Obi who had the day before commissioned another diagnostic unit at the University Teaching Hospital in Amaku, said "Iyienu was an example of what can happen, when government, missions and private individuals work in concert for the common good." He said that those who criticized his support for church-run institutions especially hospitals, were wrong, since no one could be certain who would be the next patient to benefit from the life saving services of the hospital.
Bishop Owen Nwokolo and Chief Anyaoku respectively paid glorifying tributes to Gov. Obi's vision, tenacity and commitment to service delivery and good governance. Both said that a well-equipped, well-managed and well-funded and functional hospital like Iyienu, would go a long way in cutting down the costs of medical tourism that was bilking some N250 billion from Nigeria annually.
Several of the dignitaries at the event remarked on the discernible turnaround of the hospital. Several other individual and corporate donors were also announced. At least four new building on the hospital campus were reaching completion.
Mr. Oseloka H. Obaze, SSG for Anambra who accompanied Gov. Obi and who was also born at Iyienu, said that "Anambra State Government was yet to have any cause to worry about its direct funding of church-run health and educational institutions. Support for Iyienu represents the classical case of best practices and evidence-based positive return on investment."
2014-03-07 130743
2014-03-07 130800
2014-03-07 130815
2014-03-07 130825
2014-03-07 130836