AGAIN: Boko Haram Reinvaded Mafa Few Hours After Gov. Shettima's Visit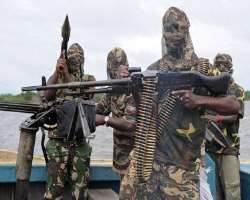 Barely two hours after governor Kashim Shettima of Borno state paid a condolence visit to the people of Mafa Local Government Area which came under attack from Boko Haram terrorists last Monday, another set of terrorists re- invaded the council headquarters at about 4:45 PM and destroyed the remaining structures on ground killing and injuring many people in the process.
Mafa came under attack last Monday where 39 innocent civilians were killed while the local government secretariat, schools, mosque, houses, shops, vehicles and telecommunication masts were burnt.
Our correspondent gathered from a reliable source that governor Shettima who hosted three of the north east governors of Bauchi, Gombe and Taraba on a sympathy visit over the rampant killings and bombings of innocent civilians on wednesday visited Ajilari Binta Shuga, a scene of the Saturday twin explosions that had claimed over 40 lives in the metropolis, later went to Mafa after seeing off his guests at the airport in Maiduguri and condoled with the residents over the unfortunate attack on their town before donating N100 million as palliative measures.
The source added that immediately after governor Shettima's convoy left Mafa Council headquarters, the sect attacked Mafa and it's environs which left many people dead and several others injured.
A security source said that the gunmen numbering more than 30 first ambushed a security patrol vehicle which was on its way to Marte Local Government Area and they exchanged gunfire with the troops before invading Mafa and other surrounding villages.
Although the actual number of casualties is not clear, sources said, many people including the terrorists have been killed in the encounter.
When contacted, the Police Public Relations Officer ( DSP) Gideon Jubrin said he is not aware of the incident, but Governor Shettima's Media aide, Isa Umar Gusau said, "there was a reported explosion around the outskirt of Mafa some hours after the governor paid a sympathy visit to the council headquarters on wednesday over the Boko haram attack of Monday".