An Address To Prez Jonathan From Ndi----Anambra State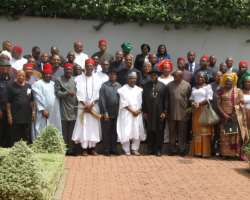 Mr. President, we are delighted to stand before you today on behalf of the People of Anambra State. Ours is a fairly balanced delegation representing every strata of our esteemed state. Our mission is not to make any demands, as is often the case whenever any group has the rare honour and privilege of meeting with the President. In company of our humble, diligent, and truly people-centred outgoing Governor, Mr. Peter Obi, CON who will be leaving office in a fortnight, we are here to thank you.
Permit us therefore, Mr. President, to convey our collective and profound appreciation to you for granting us this audience so soon after Your Excellency's recent visit to our state. Your last visit, which was as unexpected as it was exciting has not made us to become unmindful of the saying that one must not forget the right place to pay homage to the king, just because one bowed before him in the village square during the New Yam Festival. We could never take it for granted that shortly after your most recent visit to Onitsha; we have again sought an interactive time with you, despite your very busy schedule.
In this delegation, every facet, every interest group and every strata of our State is adequately represented. We, as the stakeholders have come to pay homage to someone who is seen as a friend of our people. We also have the added task of formally informing Your Excellency that the terminal date of the two-term tenure of HE Gov. Peter Obi, CON, as the amiable leader of Anambra State is March 17, 2014.
Expectedly, we we have mixed feelings about his imminent departure, because we know that in spite of all the political odds which he encountered while in office, his leadership and service to our people and indeed, to Nigeria has been visionary, courageous, meritorious, credible, exemplary and purposeful. Among other things, we appreciate his efficient and skillful pruning of the cost of governance, partnership with the Churches, extra-ordinary love for children and senior citizens and the knack for industrialization. We therefore have no doubt in our minds that history will judge him very well.
While we remain mindful that all his accomplishments, were first and foremost made possible by God; we equally know that Gov. Obi would not have been successful if you had not offered him broad and very open support both personally and as the President of the federal Repulic of Nigeria. For these, Sir, we say thank you immensely; daa alu rinne.

We commend you, Mr. President, for your transformational leadership and for creating the political space and enabling environment whcih helped our beloved governor -- your brother, friend and most ardent supporter-- to shepherd Anambra from a pariah status to stability, civility, security, economic growth and to reclaim its niche as the Light of the Nation.
We the people of Anambra State would like to state here, for the record, that our outgoing governor has done very well. This is why we are here today to thank you for your fatherly support to a humble leader who became an instrument in the hand of God, as part of His plan to save Anambra State by using a man who understands how to manage resources prudently and for the common good of all.
Whereas we have no wish to be overtly demanding, we humbly ask you Sir, to extend the same warmth, fraternal love and partnership which you so willingly gave to Gov. Peter Obi, to our Governor-Elect, Chief Willie Obiano. We humbly ask that you embrace him, partner with him and assist and guide him as you have done with Gov. Peter Obi. For that, Sir we the people of Anambra State shall be eternally grateful.
Mr. President, Sir, we thank you for all you have done for our state, and, indeed, our zone, including the promise to flag-off the Second Niger Bridge, which our people have long yearned for. Your compact and article of faith with the people of Anambra is a solid one. As you have cared for, and shown us much love, we too, shall reciprocate in equal measures.
We pledge that we shall continue to support your Government and its far0reaching policies in the overall interest of our country, the more so when these are challenging times.
Mr. President, we fully share in your concerns about the various challenges confronting our nation, especially the bedeviling violence being wrought by Boko Haram. We embrace your quiet but stern resolve to tackle these challenges head on, and to do so with dignity and respect for extant laws. Please be reminded that you remain in our prayers now and always. We also pray that God Almighty will continue to guide you and grant you the grace, wisdom and courage to continue to lead our dear country.
We thank you, Sir for this honour of receiving us, as we ask God to continue to bless you, your family and a united Federal Republic of Nigeria.