Governorship Aspirant Desecrates Methodist Church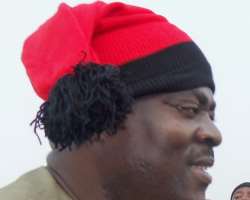 I am wondering where the future of the Nigerian Society, when the church has suddenly thrown morality to the gutters and leaves its doors open to all sort of evil and calamitous acts.
Methodist Church Nigeria falls within this category in no less measure.
On Sunday, March 9,2014, Barr Effiong Abia, an atheist, will be received and worshipped by Methodist Church Nigeria, Oron Dioceses in Akwa Ibom State, to infiltrate, adulterate and desecrate the otherwise supposed holy place of worship.
For whatever it takes, Effiong Abia, a known secret cult member of the Grail Message Movement and his other cult members are invading the Methodist church to show that there is no limit to what greed has subjected the church to.
I can see the leaders of Methodist Church coming out to preach how righteous and good Effiong Abia is, and how the children of Oron should emulate him.
A church that will open its doors for a non-believer to come in and desecrate in the name of thanksgiving, is not fit to be a church. Shame to Methodist Church.
So because Effiong Abia is gunning for governorship and has few coins to throw around, the church will now lose all sense of morality?
I may be an Oron man and I have nothing against Abia, but I don't subscribe to the defecation in the church. Let Effiong go and do his Thanksgiving in his worship shrine and leave the church for the believers in Christ.
This is sacrilege!



Obong Edet Edubio
Okobo,Akwa Ibom State
Disclaimer:

"The views/contents expressed in this article are the sole responsibility of the author(s) and do not necessarily reflect those of The Nigerian Voice. The Nigerian Voice will not be responsible or liable for any inaccurate or incorrect statements contained in this article."