Police ban political rallies in Sokoto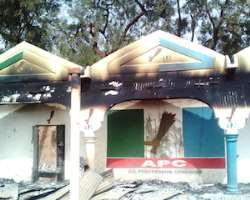 The Police Command in Sokoto State on Monday banned all political parties from holding rallies, pasting of posters and billboards in the state.
The Commissioner of Police, Mr Shuaibu Gambo, who made this known after a meeting with the political party leaders, said it would foster sustainable peace and unity in the state.
'The meeting is to discuss with the leaders of political parties on how to ensure peace and security in the state.'
Gambo said that the meeting became necessary, 'to spell out clearly their responsibilities to the people in Sokoto State.
'We have a lot of political parties that are represented in Sokoto State, but we have problems with only two political parties in the state,' he said.
He urged that politics should not be regarded as 'a do or die affair'', but simply, a free association in which people come together for the development of their society.
'So, there is no point for the political parties recruiting thugs to intimidate members of the public or killing one another.
'The political parties can hold their meetings, but coming out for political rallies or campaign is not allowed until three months before the election,' Gambo said.
The commissioner said that any political party having any activity should inform the police so as to provide them with security cover.
'The police are not happy with the shedding of blood and burning of the political parties' structures in the state.'