A fitting birthday gift! Tunde Kelani leads Mainframe team to win top prize at CultureShift 3, unveils new logo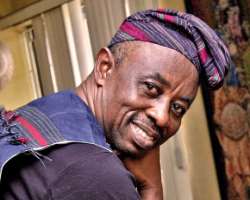 Mainframe team led by Tunde Kelani were announced as winners of CultureShift 3 - hackaton - workshop organised by the British Council and Co-Creative Hub on Sunday, 23 February, 2014
CultureShift; a programme created to engage creative entrepreneurs and organisation to use technology to provide solutions for challenges started last year on the Ideation stage with 15 companies competing and six companies getting shortlisted to progress to the hackathon stage and the selection of a winner.
Mainframe presented a platform for Yoruba Global Content; movies, trailers, musical videos, teleplays etc. across - mobile, web and internet TV. They built an App called 'OPOMULERO' which would run on Android, Ios, blackberry and other operating systems.
With this announcement coming three days to his birthday; veteran director; Tunde Kelani said "I am excited about this and this platform is like a birthday present to me, I am not planning any party this year but I believe that it has been marked by this milestone. I wish to thank family, friends, benefactors, supporters and audience for your love and support."
Unveiling a new logo as well on his birthday, the veteran added "I shall need you more in the next phase of my life. There are a lot of goodies in 2014 – Dazzling Mirage; a new film set for release soon, Omuti - Palmwine Drinkard (stage re-adaptation), YEEPA Solaarin Nbo (stage) and the ultimate - OPOMULERO -platform for Yoruba Global Content."
Site and app launch date will be announced soon. For more information, visit: www.mainframemovies.tv
About Red Media Africa
Red Communication is a PR & Communication firm under the parent company, RED. An innovative media group focused on Africa, RED's vision is to excite and empower an evolving generation through the media's limitless possibilities. Built across tools and platforms, its Communication Division holds Red Communication, Red Marketing and Small & Medium, and YouthConnect; and its Content Division holds the Y! brands, including Y! TV, Y! Magazine, YNaija.com, Teen Y!, Y! 2015, the Y! Tech 100 and the Y! Annual Black Ball/Y! 100 Most Influential List. It also anchors a development firm, The Future Project Africa, which co-presents Africa's leading youth platform, The Future Awards Africa, and other projects including the Nigeria Symposium for Young & Emerging Leaders and The Future Enterprise Support Scheme.