EFCC should do more - The Guardian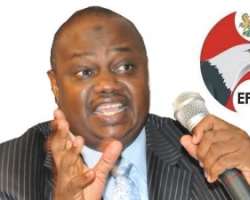 If Nigeria would live and make any meaningful progress, corruption would have to be fought to its death. The Economic and Financial Crimes Commission (EFCC), the foremost anti-corruption agency, therefore, should constantly be alive to this realisation and responsibility.
As things stand now, the EFCC is a long way from the dream; the anti-corruption agency and its leadership, officers and men must stay awake for the dream of a Nigeria rid of corruption to come true.
Chairman of EFCC, Ibrahim Lamorde, sometime ago addressed the Committee of Chief Compliance Officers of Banks in Nigeria on what he termed contemporary issues in compliance and enforcement regarding the law on anti-money laundering as well as combating finances of terrorism. The meeting was an apparent attempt to counter the general impression that the commission is not only asleep most of the time but also pulls selective punches when it is forced to act occasionally by welling negative public opinion.
At the meeting, Lamorde openly tried to shift upon the banks blame for the commission's lacklustre performance. Because the banks are expected to decide subjectively and forward to the commission for investigation so-called red flag transactions by bank customers, the commission has found it convenient to heap on the banks accusations of shielding likely criminals. But the commission is merely passing the buck. The EFCC chairman may not be unaware that the above approach is far from the contemporary way of combating economic and financial crimes.
From experience, any red-flag reports on multiple transactions in a given day or large volume of transaction may lead to fresh selective and publicly announced invitations to some unnamed bank customers for questioning and possible investigations whose outcome will be shrouded in secrecy. It is public knowledge that the commission has a very long list of cases on which necessary investigations have been finalised. For example, the immediate past chairperson of the commission once indicated that duly investigated misdeeds of some political office holders were marking time when they should have been filed in court.
For the EFCC to succeed in its mandate of stamping out the wide range of economic and financial crimes contained in the enabling law, two things are of uppermost importance. First, those investigated and strongly suspected to have committed such crimes should be speedily and openly tried and, if found guilty, punished to serve as a deterrent to elements who might be tempted to tread the same path. Until and unless the outstanding cases are conclusively prosecuted in the law courts without delay, lessons are neither taught nor learnt. In this regard, the commission should press for early amendment to the EFCC (Establishment) Act in order to, among other provisions, set time limits within  which court rulings on all EFCC cases should be given. The commission should also work out cost-effective ways of disposing of the accumulated cases within its normal budgetary provision. For example, senior legal practitioners, as a rule, should handle pro bono publico at least one EFCC brief annually. Nigeria needs all hands on the plough in the fight against corruption.
Second, and provided anyone suspected of economic and financial crimes is certain to be speedily put in the dock to face undelayed justice, the EFCC should abandon passing the buck and seize the initiative by developing the capability for direct detection of economic and financial crimes at the early stages. By using an appropriate computer software (an affordable package can be produced in collaboration with Nigerian experts), the commission will be able to screen each bank's computerised record of customer transactions and objectively pinpoint any accounts that require detailed investigations to unearth unlawful financial dealings. Banks are expected under the law against money laundering to preserve records of customers' transactions for 10 years.
The EFCC should, therefore, shake off certain indolence, which appears to be its signature now and work earnestly on the available bank transactions data in order to bust economic and financial crimes thereby helping to minimise corruption. The task before it is simple, considering that a single government agency elsewhere monitors the gargantuan worldwide telephone conversations and text messages with a view to nipping in the bud any planned acts of terrorism aimed at that particular country.
EFCC certainly can do a lot more than it is doing right now.