WHERE IS ORJI KALU'S 'NJIKO IGBO' PET PROJECT?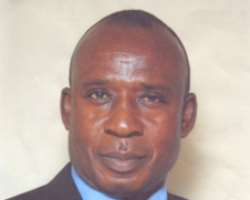 Sooner than predicted, Orji Kalu's hackneyed subterfuge with his self-confessed apolitical Njiko Igbo Project has pitiably exhausted its elastic limit. Like a pack of cards with no trail of finesse and sophistication, the political show business has shamefully identified its level. Madness is indeed not a disease for children! All those cosmetic and hollow boastings on the actualization of Igbo presidency in 2015, with orchestrated media hype, has at last proved a mere public relations gimmick; aimed at resuscitating a punch-drunk slave driver; who had been beaten to a near-political stupor, and is, desperately genuflecting to popular sentiments to bounce back to political reckoning.
Of course, every form of untamed cleverness usually loses steam when the underlying magic is discovered. The sensibilities of Nigerians have deservedly outlived the temerity of attention seekers like Orji kalu, who trivializes the prized aspiration of Ndigbo, since the end of the civil war.
Those who know Orji Kalu, or had monitored his antecedents would not be surprised with his consistent inconsistency. He talks with his tongue in his cheeks. At one respect, he would tell you that he has quitted partisan politics. At other time, he would tell those who cared to listen that he was forging an apolitical platform to unite his people. Yet, at other times, he would claim that he lost everything he had in politics and hence, will not leave his business for politics, while nocturnally; he has busied himself begging his old allies to assist him to return to the ruling Party from the top; having being declared persona non grata in the PDP Chapter of his home state.
For a man who started building his political empire at the same time with Bola Tinubu of Lagos State (as co-Obasanjo albatross), to be scampering for a political roof to accommodate his decapitated personality today, will indeed make an interesting case study in shylock god-fatherism and congenital megalomania.
Come to think of it, does Orji Kalu have the capacity to drive the vision of 'Njiko Igbo' as espoused? It is hard to convince anybody among Ndigbo that he can step into the shoes. All the noise about Orji Kalu as the new face Igbo man is media creation. His source of stupendous wealth is questionable. His academic history from the school certificate, to the Catholic University of United States certificate that disappeared from INEC files overnight during the Salisu Buhari certificate scandal in 1999; to the University of Maiduguri conjured transcript after 18 years of rustication; to the Abia State University 'on-gun-point' certificate, which has since been revoked; Orji kalu is bogged by controversies bordering on integrity and strength of character.
Njiko Igbo suffered a still birth because it was not dexterously packaged to survive. The progenitor was more interested in showcasing the embryonic pregnancy at the market place to prove his political fertility, only to be taken unawares during delivery-induced labour. And to whitewash himself from the shame of rail-rolled abandoned project, he quickly arranged a lackey at Ohanaeze Ndigbo to give him a soft landing.