How I relate with Mr President as gov of his state, by Seriake Dickson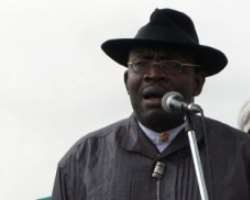 Governor Seriake Dickson is the only governor in Nigeria who was sworn in on Valentine's Day. Penultimate Friday, while other people were celebrating Valentine, Dickson was explaining what his administration had been doing in the last two years and where he was taking the state to in the years ahead. Excerpts of the interview with him: Are you excited, challenged or frustrated after two years in the saddle? I feel excited. It has been an exciting journey so far. Are there challenges? Yes. Are we confronting those challenges? Very well. Are we hopeful of a difference at the end of my tenure? Yes. There is already light at the end of the tunnel because people of the state are already seeing the light without getting to the end of the tunnel. Bayelsa has changed and is constantly changing because we are making a modest effort that everybody appreciates. It has been very exciting.
What has been the driving force of the dramatic change in the state? Well, the truth of the matter is that I have been deeply involved in the affairs of governance and public management for some time. You know that I served here as commissioner for justice. Even before then, I was involved over and over again in community service through the Ijaw Movement, which exposed me to the realities of underdevelopment and the pains of it. I became very passionate about the need for change.
I believe that the Federal Government of Nigeria from Independence till now neglected our people, which should not have been. That is why there is no road linking Brass up till now, no federal road to Oporoma and Kudama or even Agge, which is a natural seaport. But if the Federal Government, either deliberately or inadvertently, brought this situation of underdevelopment by paying insufficient attention to us by whatever reason, it is not something that we want to allow to continue indefinitely.
If we were forgotten by the federal authorities for this long, should we not do something about it ourselves? Should we also forget ourselves? These are the things that have propelled the pains of underdevelopment. I thought that if God in His infinite wisdom and mercy and the people of Bayelsa gave me a mandate such as this, the least I would do is to bring about a maximum impact not only on this generation but also for a long time to come.
I made that very clear that with me as governor, Bayelsa and the Ijaw nation would not be the same again. These were the things I meant from day one. The other thing is that I am a passionate person; I am not a person with half measures- I am either warm or cold and not lukewarm. I am a politician of conviction not convenience. The things that propelled me are very deep things and not issues that come and go.
I am influenced and motivated by long lasting values. My principles are enduring and I am compelled to pursue a vision that will outlast our generation. For me and with my variegated background, I have been exposed to the realities of underdevelopment. So, I came prepared to change the state from day one. When I came in I told my people that they were in for a big bang.
I warned them to put on their seat belts because we are shaping the society for good. I want to succeed by building a new Bayelsa with the people being educated, empowered and given a new sense of hope. We want to remove the toga of being a state with militants and illiteracy and unemployment. The health sector of the state is being overhauled with facilities and health insurance scheme.
We are building a society where you don't need to be a millionaire before you can live decently. The banks are being encouraged to support mortgage lending to the people. People are complaining that I don't share money. That is true because government cannot be responsible for burials and marriages, payment of rent and so on. But if we free the economy and support the people to work and invest, the economy will grow.
Don't you think that the policy of making every Bayelsan pay his tax promptly can be used as a campaign tool against you? Well, I am already dealing with that but the good thing is that majority of the people of the state understand what I am doing and they believe in me and my policies. They are confident that what we are doing is the right thing to do. But I am not ruling out the possibility that some people can use the tax issue to campaign for themselves. But it does not work like that because there can be no development without resources to run the state.
Some of the people are desperate in our clime. But in most responsible and decent societies, if you are aspiring for leadership , the first thing you protect is the treasury, public purse no matter your party affiliation unless you are coming to steal and you say 'make I chop you chop'. But if you care passionately and want to make a difference, you will be interested in expanding the public treasury base.
As I have said, I am a politician of conviction and not that of convenience. If there are some people who don't understand where we are taking the state to, then posterity will do. That is the vindication anybody in leadership should seek, not the ephemeral judgment of the present, which could be influenced by advantage or fear of disadvantage and all that.
The lasting judgment of posterity and the one that I seek is the judgment of posterity where our children and grandchildren will remember that there was a Governor Dickson, who once ruled the state and bequeathed legacies that outlast him and his generation.
Bayelsa is one of the educationally-disadvantaged states in Nigeria. What is being done to address this setback by your administration? Free and compulsory education became a priority because no society can develop without a sound knowledge. I knew that passionately because I know how hard I worked to educate myself and I know that but for education I would not have had the opportunity to be of service to my community and Nigeria. I know that there are several young people out there, who are even better than me, who could do better than me and whose chances of giving service are nil if they are not educated.
I know that to change our society we needed to address education so that we break the cycle where the father is a militant and unemployed and he gives birth to children and become grandfathers of militants and the cycle continues in a situation where everybody holds the AK-47 rifle and involved in one form of criminality or the other. I wanted to eliminate that social dysfunction that threatens everyone else in the society.
I knew that only education could provide it and not just road construction and I had to make that very clear from the first day I assumed office. And in these two years, we have established over 500 primary schools in all parts of the state and I can say that it has been school, school, school and scholarship. It has been provision of free materials in all schools in the state.
What level of education are you talking about? You don't pay for anything as a primary school pupil in the state. We have built over 500 primary schools with staff quarters. I asked that another batch of 100 schools should be built this year. My dream is that every community in Bayelsa State no matter how small should have a primary school. It is the right of the Bayelsa child to have free education no matter how remote his or her community or status in life may be.
It is critical that everyone should have unhindered access to education and we are driving that passionately because it could have happened to me or anyone else. The secondary school level is every more important. We are constructing 25 new boarding secondary schools, which I call Constituency Schools because every state constituency has one and they are equipped with modern facilities.
Apart from these 25 model boarding secondary schools, there are other model secondary schools in every local government headquarters of the state. The population at the secondary school level is huge. I can ask you to go round and see what I am talking about because most of the universities in this country do not have some of the facilities that our model boarding schools have. When those schools are completed and furnished, they will start this September and all the students will be fed and maintained free by the state. This is a revolution.
I know what I wanted to achieve when I sent out 150 Ph.D scholars to all parts of the globe. I have also sent out another batch of 450 Bayelsans to go and get their master's degrees in various fields. This week, 25 more are going to Lincoln University for under undergraduate programmes. Their fees have been paid. Another batch of 250 secondary school scholars have been dispatched to top secondary schools across Nigeria.
That bill is about N500 million a year. If you don't spend this kind of money on human capital development, where will you put it? What we are doing is to lay a solid foundation for a massive revolution of knowledge and development and this society will not be the same again by the time these people complete their education and return to the state. Even now, no student pays anything for WAEC and JAMB. The state pays.
We are also building a teachers' training institute because in vain do you build all the structures if the teachers are not there to impart knowledge to the students. So, it is a holistic policy we have developed. The TDA is going to be run by the Canadians and they are already on the ground along with some Britons. It is compulsory for every teacher in the state to pass through the institute.
I don't like talking much about roads and bridges we are doing because they are there for anybody to see. Those who want to campaign against me may not get the support of the common people because they know what I am doing and they believe in me and my work. The welfare system that I have instituted has helped the old people to have some level of financial support from government at the end of the month. Once you are 75 years and above, the state pays you N5,000 monthly and it is backed up by law to ensure that it is carried out without fail.You can see that crime wave in the state has reduced because of the welfare system that I have put in place.
How does it feel to be the governor of Mr. President? It is very exciting to be the governor of the President or Vice President. There are governors who even complain about having the National Chairman of the party from their state and I often tell them that they should zone the office to Bayelsa if they don't want because I have room for it. The good thing about Bayelsa is that, as a result of many years of political interaction with President Jonathan, he has become more than my President and has become my elder brother and political leader.
There is a wonderful synergy, wonderful chemistry and understanding between us at the personal level. His own style of non-interference in what I do makes it very easy for me. He is a gentleman who believes in due process and is very formal and cares passionately about this state and this region as he does for Nigeria. And, to me, having a President or Vice President from the state is like having an umbrella or someone you can run to for advice, counsel and support.
I know that because of the politics that is going in Nigeria, a lot of people could find it unsettling where the President knows all the people you know and have direct access to the same people you know. But, for me, I quite frankly enjoy having a President from my state and I even want to have more presidents from Bayelsa because it makes the burden of leadership lighter and easier.
It gives me some additional responsibility but makes me more secure and confident and not unsettled by the traditional rivalry that comes with such positions. I am confident of what I am doing and I have nothing to fear. It's been very exciting experience for me.
Where are you getting the money to undertake all the projects at a time when allocations to the states are declining? This is a question many others have already asked me because they know how the state of the economy was when I took over. When I rolled out my development plan, a lot of people doubted me because they thought I would not be able to do them because of money. But now they have seen that every pronouncement I made is followed with action. And the talk has now changed to: where is he getting the money from?
Are we sure these are not federal projects? Are we sure the Federation Account does not give Bayelsa more money than other states and so on? I take it as a compliment even when people say I have done so much within a short time. It is more about management of resources. It is how we utilise the little we get that matters not how much we get.
And that underscores why I keep telling the people the reality of taxation; the need to beef up the IGR of the state. That is why I told them that they need to pay their taxes promptly so as to make money available for the provision of critical projects and services. I want to ask the people for the understanding and support in our drive to develop the state. People were not paying taxes in Bayelsa and I must insist the trend must change.
Our IGR must continue to improve so that we raise our revenue base for the interest of the state and its people. The IGR used to hover around N50 million monthly but now we collect N1 billion a month. By the time we are through with the tax processes we are working on, I see the state netting about N4 or N5 billion a month. We are also working on a mechanism to tax oil majors because that is another revenue source that has been ignored or not sufficiently taxed.
They have pipelines and other facilities crisscrossing and destroying the environment of this state and country and they don't pay levies or taxes. I am working on all these things with consultants. It is important for me to prepare the peoples mind on life after oil.
How much have you taken so far as loans to finance ongoing projects in the state? Do you think the Transparency and Accountability Bill will achieve any tangible benefit for the state? I have not really taken any serious loan on account of what we are doing. But you cannot rule out the possibility of approaching a bank to bail us out with some money to solve immediate needs and paying them back when your money comes. But the truth is that I have not taken any loan or bond to finance any project.
Talking about the Accountability Bill, I actually wanted to send a message to all that it is no longer going to be business-as-usual with the state resources. I signed it as a death warrant against myself when I said that if a governor does not render the account of the state in three months, it is an impeachable offence. The Assembly members ran to me and said, 'Oga, look, this law is too much', and I said 'no', it must be signed into law and I did just that.
I said if I don't comply with the law by presenting the account of the state in three months, it is an impeachable offence and misconduct. So, I signed it into law more or less like a death warrant. I don't want this state to go back to the dark days anymore. Now we are building primary things, which should have been in place many years ago because people saw government money as their own money and there was no control.
The biggest control in our system especially in a democracy should come from the people. They should ask questions. They have the right to know and that is why we worked hard for the FOI Bill; that is the foundation of democratic leadership. Power belongs to the people, I am only the custodian of the mandate of the people. I told my people, if you want to be a billionaire or millionaire, leave government and become a businessman and I will support you.
But those who manage public resources cannot themselves aspire to that level of obscene wealth. The goodwill one has a governor is enough to support one in life. You don't need to latch on public resources to become a billionaire. I honestly feel that we should discourage people from secretive about the financial transactions of government. When I came here, some of my finance people were very uncomfortable and they complained to my friends about my talking about government finances publicly. In some states, the commissioner for finance does not know anything about the finances of government. Vanguard