DAME(BARR.) ALICE LAWRENCE-NEMI: AMAECHI'S TOOL FOR EDUCATIONAL REVOLUTION IN RIVERS STATE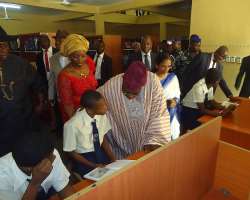 Preamble
Writing on the educational revolution in Rivers State, South-South region of Nigeria, gives me a lot of joy as it is an area very familiar to me as a close monitor of events in the state since Rt. Hon. Chibuike Rotimi Amaechi came into office as Executive Governor of Rivers State in November 2007. I have in this regard done an article titled "Amaechi: Five Years of Education Revolution in Rivers State" published by World Stage News (Newshttp://www.worldstagegroup.com/worldstagenew/index.php%3Factive%3Dnews%26newscid%3D6659%26c) on Nov. 12, 2012 and other media houses across the world but I am compelled to do a follow-up on this after recently attending some functions in the state.
The first of these events was the stakeholders meeting of the All Progressives Congress (APC) held before the commencement of the nationwide registration of the party in the State at the State Government House in Port Harcourt. Speaking at that meeting, Governor Amaechi charged the party faithful on the need to be visionary and committed to the vision and mission of both the party and Government if we are to make the state the Eldorado we want it to be. "Dame Barr Alice Lawrence-Nemi, the Commissioner for Ministry of Education, should serve as our example in this regard. This is a lady who drinks, eats and does not rest to ensure that she fulfils her mission in government. If we all put a little as this lady puts in the sky shall be our limit," the Governor charged party faithful.
The other event was during the thanksgiving service in honour of Distinguished Senator Magnus Ngei Abe, Chairman of Senate Committee on Petroleum (Downstream), at Ogoni after surviving the rubber bullets shot at him by the Nigerian Police during a rally by the Save Rivers Movement (SRM). Here again, Governor Amaechi stated: "Chief Nyesom Wike is a nobody in the politics of Rivers State and unfit to be a Minister of Education of the Federal Republic of Nigeria and I cannot belittle myself and office to exchange words with such a callous ingrate and nonentity. If I must react to him that should be done through Ibim Sementari, the Hon. Commissioner of Information, and Lady Alice Lawrence-Nemi, the Commissioner of Education, who speaks better English than Chief Wike."
I was, however, not swayed by all these comments about Barr. Alice Lawrence-Nemi by Gov. Amaechi, until General Olusegun Obasanjo, former President of Nigeria, came calling on a two-day visit to Rivers State to commission some landmarks projects executed by Gov. Amaechi during his six years' historical and revolutionary administration in the state. The former President was so elated and astonished by the type of world-class projects he was asked to commission, particularly the Ambassador Nne Kurubo Model Secondary School at Ebube, Eleme – one of the 24 model secondary schools scattered all over the 23 local government areas of the State which tops most of the universities in Nigeria in areas of facilities, structures and landmass that the former President shouted while addressing the Rivers State people in the Assembly edifice of the school, saying that the K-leg of Governor Amaechi has been straightened. If we can recall, General Obasanjo denied Gov. Amaechi the PDP ticket to fly the flag of the party in 2007 after winning the primaries of the party until the Supreme Court of Nigeria reinstated Gov. Amaechi as the duly elected Governor of Rivers State. General Obasanjo went further to hail Governor Amaechi for his administration's developmental strides and stated: "I came to see developments and I have seen developments and I will confess developments! What I have seen is worth declaring! The area of health, education, Agriculture, Sports and road infrastructure is worth declaring. When I see development I earmark, eye mark and mouthmark."
My encounter with Dame Alice Lawrence-Nemi
With this statement by an Elder Statesman of Africa, I started asking questions on who must have been the tool for this type of revolution currently going in Rivers State. Who is this fellow that the Chairman of the Governors' Forum of Nigeria should eulogise and single out for praise in the midst of her colleagues? To catch a glimpse of this iron lady in charge of the Ministry of Education, I embedded myself in the Office of the Governor for three weeks to monitor events, seeing that most of the commissioners in the state run around the Office of the Governor, but I could not see this woman. In my shock, I ran to the Ministry of Education with hope that I could capture this Amazon of a woman but I was shocked further when I saw a young, vibrant lady working in the corridor of the ministry, whom I thought was the Secretary to the Commissioner of Education. I pleaded with her that I needed to see Dame Alice Lawrence-Nemi, the Commissioner of Education. She looked at me and laughed and said: "I am the Commissioner of Education." To me, the lady must be a joker and I threatened her that I would report her to the commissioner when I saw her and she just laughed and left me in my wonderment. I went to the Office of the Commissioner to sign the visitor's paper and after few minutes I was ushered into the office to be confronted by the same lady I threatened few minutes ago! I was so ashamed of myself that I had to apologise that from what I have heard about her that I was expecting one hefty, arrogant, proud elderly woman and not an inconspicuous, unassuming, simple lady like her who has changed the face of education in Rivers State without any pageantry, ostentation, showiness, pomp or publicity.
After the usual courtesies, my first question to her was, why don't you frequent the Office of the Governor as your colleagues do? "I do visit the Office of the Governor when the need arises, likewise most of my colleagues, but I have my briefs and as you can see, I am a busy person attending meetings and receiving some stakeholders in the education sector and to me any minute lost costs me and my work a lot, so visiting the Office of the Governor is only when it becomes imperative besides I am only driving the vision and mission of the Governor so he have no reason to delay any of my files or submission so going to his office is only when it is necessary.". Watching this lady directs her staff on the tasks of the Ministry is a beauty to behold and I can only sum it up with the quote of the great Warren Bennis who defined Leadership as the capacity to translate vision into reality.
Profile of Dame (Barr) Alice Lawrence-Nemi
Dame (Barr.) Alice Lawrence-Nemi, a workaholic and an unassuming personality, is a study in humility, philanthropy and service to mankind. A woman of impeccable, unimpeachable candour and proven track record of excellence, she was born into a respectable family in Okrika, Rivers State, and trained at the reputable Staffordshire University, United Kingdom, where she obtained her LL.B (Hons) and was called to the Nigerian Bar in 1990. In 1994, she became a member of the prestigious International Bar Association and she also holds a Diploma in International Commercial Arbitration. She is the Founding Partner of NEMI & NEMI (Barristers, Solicitors & Arbitrators) that specialises in International Commercial Arbitration, Maritime Law, Oil And Gas Mining Leases, Liquidation and Receiverships, Mergers and Acquisitions.
Upon her appointment as commissioner, Dame Alice Lawrence-Nemi came fully equipped to manage public office. She had served as Chairperson, Law Center/Common Room Management Committee of the Nigerian Bar Association and had been a Member of Rivers State Economic Advisory Council, the highest economic body of the state, since October 31, 2007, through which she has been making contributions to the development of the state.
She was appointed Commissioner for Housing on April 4, 2008 and she soon changed the face of Rivers State. This hardworking achiever has been the Rivers State Commissioner for Education since 2009, having been re-appointed to the same position in 2011. The fact that Rivers State is a landmark state for education in Nigeria is proof of her indisputable and undeniable achievements.
This Amazon is one of the very few Nigerian lawyers that apart from being a member of NBA, also belong to the International Bar Association, International Federation of Women Lawyers, Rivers State Planning Committee, Council of Knights of the Blessed Virgin Mary and a Certified Notary Public.
Dame Alice Lawrence-Nemi and Education Revolution in Rivers State
The Amaechi-led Government on assumption of office declared a state of emergency on the education sector and completely took over the payment of salaries of primary school and junior secondary school teachers, hitherto the statuary function of the local governments, to ensure that education takes its rightful place in the scheme of things. This intervention costs the State Government N800 million monthly to pay the salaries of the primary school teachers.
The government is targeting building 700 model primary schools with 500 completed – each with 20 classrooms costing about N116m each and equipped with ICT facility, modern library, science laboratory, football field, basketball pitch, volleyball pitch and nursery playground. These model primary schools are built to the standard of the United Nations as obtainable in developed parts of the world.
The State Government has also built 24 model secondary schools across the 23 local government councils in the state each costing about N3.; well structured and fully equipped with modern educational, recreation and boarding facilities with standard housing for teachers1B of which one was recently commissioned by the former President of Nigeria, General Olusegun Obasanjo. These secondary schools have been referred to by some observers as universities. Said Governor Amaechi about his mission: "We knew that the problem of the state was basically education, the state of our quality of education was abysmal and we knew that the quality can only improve if we take over primary education." He expressed concern over what local government councils were doing with the money meant for this purpose.
The Rivers State Government has introduced the study of ICT in the model primary and secondary schools. According to Dame Alice Lawrence-Nemi, whose word is law when it comes to issues of education in the state, "This is to enhance technological development of our students in the State. The world is a global village and the need to embrace technology at an early stage is essential in the intellectual development of the students. I am proud that Rivers State is the first state in Nigeria to introduce the study of ICT at the primary school level. All the schools in Rivers State today are equipped with ICT facilities with internet connection as the state is eager to make all her pupils and students to be technologically ahead of their counterparts in other parts of the country.
Our candidates in Rivers State are ICT-compliant and write external examinations like WAEC and NECO. Today, I am proud to state that technology has eased learning in our society as our students can do their assignments on the Internet. Today, Rivers State University of Science and Technology (RSUST) is leading the way in technological drive in Nigerian universities and has shown Nigerians how ICT can easily be used to enhance learning and administration process in the academic environment." All these are to the credit of the great revolutionist of our time – Rt. Hon. Chibuike Amaechi!, Ion-lady Dame Nmei enthused.
Apart from retraining its teachers, the State Government has employed 13,000 teachers from the 20,000 shortlisted for interview out of the over 45,000 teachers that applied. The state has offered scholarships to over 2,000 students in Nigerian higher institutions and has spent about N5bn on her students in foreign intuitions. The state is building a world-class university which when completed will turn out well equipped graduates that will hold their own in any field and compete with the best in the world.
In the Rivers State University of Science and Technology the Rivers State Government is building a hostel that will accommodate about 6,000 students and accommodation for all the lecturers of the university and will be fully ICT-compliant. It is important to point out here that the Rivers State Government is among the few in Nigeria that offer free education and free health delivery to its people but stands apart as the only state offering free education, free sandals, free books and free uniform in Nigeria. About 500 new primary schools have been built in 350 communities across the state, a feat that no other state in Africa is yet to accomplish.
The bills to strengthen Education in Rivers State
To further strengthen and ensure qualitative education in the state, Governor Amaechi has signed into law five bills brought for his assent by the State House of Assembly. Among them are the Rivers State Universal Basic Education Amendment Bill 2012 and the Rivers State Senior Secondary Schools' Board Bill 2012. The Rivers State Governor was upbeat while signing into law these bills including, including the one on social services levy recently passed by the Rivers State House of Assembly.
International organizations comments on the educational revolution in Rivers State
The United Nations International Children's Fund (UNICEF) has commended Governor Amaechi on the strides recorded by his administration in the health and education sectors. Country Representative of UNICEF, Ibrahima Fall, who described as tremendous the progress made in these sectors, said: "This is the most exciting news for every mother, for every child and for every family in Rivers State."
In appreciation to the feats of Amaechi's administration, the former Israeli Prime Minister, Ehud Olmert, recently stated: "The impression that I always get when I come to Africa is that these countries have enormous potential and your country and your state (Rivers) have enormous potential and I think that you happen to have at this time in history also, a dynamic, energetic and capable leadership that can make the dreams of building up the state into a reality of life for the 5.1 million residents in Rivers State that want their lives to be of much higher and greater quality."
In extolling this great revolutionist, the United States Consul General in Lagos, Mr. Jeffrey Hawkins, told journalists: "I must commend Governor Rotimi Amaechi of Rivers State for embarking on numerous people-oriented projects and showing enthusiasm on Niger Delta issues. We are very appreciative of all that Amaechi has done. We are quite clear that addressing the issues of the Niger Delta, the challenges require focusing on things like education development, agriculture, health, all sorts of issues, and the governor was kind enough to show us, on the ground, some of the projects the government of Rivers State is working on, so we are very deeply appreciative of his support."
Today, Rivers State is one of the few states in Africa that enjoy worldwide recognition. The state has hosted many international events and is the UNESCO World Book Capital 2014! What a feat – indeed, an extraordinary accomplishment!!!
Some other remarkable feats in area of education by the administration of Gov. Amaechi
To commemorate this feat, literary giant Pa Gabriel Okara not minding his old age of 91 recently visited Port Harcourt to unveil Port Harcourt as the UNESCO World Book Capital 2014 together with other giants and literary scholars, such as the Nobel Laureate, Prof. Wole Soyinka; Elechi Amadi, Prof. Ebiegberi Joe Alagoa, UNESCO Director/Country Representative Mr. Joseph Ngu, who represented the Director-General, Irina Bokova; Veronique Tadjo, Igoni Barrett, Doreen Baingana; and Chibundu Onuzo. In fact, the event was a double celebration of a sort: unveiling the city of Port Harcourt's nomination as UNESCO World Book Capital 2014 and the launch of a book, 'Nigerian Literature, a Coat of Many Colours'.
Apart from the above, Port Harcourt, the capital of Rivers State of Nigeria, played a historic role when it hosted the US-Nigeria Bilateral Commission on 16 and 17 October, 2012, thereby becoming the first city outside the Federal Capital Territory (Abuja) to do so. This event is a top bill in international rating and the strategic relevance of the Gulf of Guinea area makes the meeting in Port Harcourt even more important. The United States Deputy Secretary of State and two Assistant Secretaries led the US delegation. On the side of Nigeria, the US-Nigeria Bilateral Commission is viewed with seriousness, especially by the Nigerian Governors Forum (NGF) led by His Excellency, Rt. Hon. Chibuike Rotimi Amaechi.
The driving force behind the vision and mission of Dame Alice Lawrence-Nemi in Rivers State
Dame Alice Lawrence-Nemi seems to be driven by the legendary Nelson Mandela's stand on education when he stated: "Education is the most powerful weapon which you can use to change the world." She is equally driven by the words of the famous Walter Cronkite: "Whatever the cost of our libraries, the price is cheap compared to that of an ignorant nation."
Her feats, accomplishments and conclusion

The Talmud must have had this woman of excellence who belongs to the mainstream of the administration of Governor Amaechi and stands out as one of the shining stars of this administration in mind when he stated, "He who sacrifices a whole offering shall be rewarded for a whole offering; he who offers a burnt-offering shall have the reward of a burnt-offering; but he who offers humility to God and man shall be rewarded with a reward as if he had offered all the sacrifices in the world." Not surprisingly, her feats have earned her a lot of accolades and awards. The list: National Platinum Quality Commissioner for Education of the Year Award (2009); Good Performance Award in Basic Education; Best in the South-South (2010); Education Watch Award for Excellence (2010); Most Innovative Education Commissioner in the South/South by the President's Inter-School Debate Programme (2010); Good Performance Award in Basic Education; Best in the Federation (2011); ThisDay Award as Best Commissioner for Education (2011); Babs Fafunwa Education Prize for Service Excellence (2011); National Transformation Leadership Award (2011); Nigeria's Great Achievers of the Year Award (2011); The Most Outstanding Commissioner for Education in Nigeria (2011); Certificate Award of Appreciation from Anglia Ruskin University, England, in recognition of her invaluable contribution to education and youth empowerment in Rivers State and Nigeria; Conferment of Fellowship Award by the Institute for Government Research and Leadership Technology for her service in education development; Honorary Member, Association of Nigerian Authors, Rivers State Chapter; Recognition Award by Cowbell National Secondary Schools Mathematics Competition; Award for Outstanding Contribution to Human Development and Social Change by the Home Economics Teachers Association of Nigeria (HETAN); Time NEWS 2012 Leadership Gold Award, Award for Outstanding Contribution for Women Emancipation in Nigeria by Rivers State Women Association of America; Elechi Amadi Award for Literacy Advancement and Educational Development 2012 by STAN Communications; Most Outstanding Rivers Commissioner 2012 by Independent Monitor Newspaper; Ambassador for 'Child Rights to Education' by Silverbird Ostyles Stars Series; Award for the Development of Arts and Art Education in Rivers State by Art2Desire Ltd; STAN Honourary Membership Award towards the Development of Science, Technology and Mathematics Education in Rivers State; Award of Excellence in Recognition of Achievements in Education Sector in Rivers State by Holy Rosary College Port Harcourt; Fellowship Award by the Chartered Institute of Finance and Control of Nigeria (CIFCN) 2013, 2012 Andy Briggs Report Award for Outstanding Impact in Infrastructural Development; Award of Excellence by NTA Network Centre Port Harcourt; Outstanding Female Commissioner Award by NAWOJ Rivers State Chapter, 2013 Exam Ethics Marshals Nigeria Best Practices Award for Education Administration; Zik International Knowledge Leadership Award, 2013 by Business Reports International; Award of Recognition as Ambassador-in-Service by Church Management Support Ministry; Award of Distinction in the Development of Education in Rivers State by Rundele Community; Youth Builder Award by Rivers State Union of Secondary Schools Press (Media) Club; and Merit Award on Seasoned Generations' Administrator by Dynamic Peace Initiative.
Dame Alice Lawrence-Nemi is an ardent admirer of the arts and classic music. She relaxes through yoga and playing golf.
With all these, I can now understand why Governor Amaechi does not only trust this woman but also goes to sleep with two eyes closed when the issue of education is mentioned in Rivers State.
Eze Chukwuemeka Eze was the immediate past National Publicity Secretary of the defunct nPDP.