Omobola Johnson, Femi Oke, Adebola Williams, Mo Abudu, Leke Alder, Others Shine At Social Media Week 2014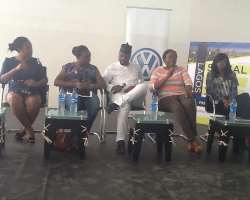 Social Media Week Lagos 2014 has been up to a great start featuring over 134 events – panels, workshops, keynotes, networking sessions and entertainment events across 5 main venues and other independent ones between the duration February 17 – 21.
Some of major highlights from the Events that have already taken place include Making IT! Leveraging Owned Online Platforms as a Beauty Entrepreneur Hosted by House of Tara International.
The Social Media Report event by Alder consulting showing a comprehensive analysis of social media adoptions by brands, organizations, and individuals from different sector.
The event featured the Principal Consultant, Leke Alder, alongside a panel lead by Founding Partner of RED, Adebola Williams. Ranmi Ajayi (Politics), Subomni Plumptre (Business), Kate Henshaw (Entertainment), and Blossom (Advocacy) were all on the panel and the discussion revolved around the impact of social media in the sectors they represented, and one resounding point was the increased reach and ability to engage virtually were the benefits.
An evening with leaders was another major event which was headlined by The Honorable Minister of Communication Technology, Mobolaji Johnson, Angel Investor and Technology Entrepreneur, Tomi Davies, Nkiru Asika, and Enough is Enough's Yemi Ademolekun were on the panel which took place at the Experience Center VolksWagen Hall. The Keynote of the Minister focused on How Nigeria is leveraging Social Media in Commerce, Communication & Citizen Engagement.
She emphasized on the importance of social media as a tool to engage with citizens but warned about the propensity to believe it all ends there, without seeing the need to continue dialogue and actions offline. Tomi Davies talked about the Angel Network and investment going into tech startups in Nigeria.
Yemi of EiE added the responsibility the connected few have in educating the offline crowd. "Online cannot suddenly make something work if it is not already working offline" – said Nkiru Asika which summarized the centre of discussion – a warning for overestimating the power of online tools such as social media, a point also raised by What's Up Africa's Ikenna. Other guest features includes Femi Oke for Aljazeera's Social Media and Global Health, Luvvie's and Wordcamp Nigeria masterclass session on Blogging, and Tech Africa's fireside chat with Wakanow's Co-Founder, Raphael on social media and Travel and Tourism.
No doubt social media affects a wide range of sectors as seen above. Social Media week continues with more than 20 events in the next two days including Music/Entertainment, Startups, and more. Visit http://socialmediaweek.org/lagos/schedule to view upcoming events.
About Social Media Week
Social Media Week is built on the belief that we should better understand how technology is providing new inspiration for how we live, work and create. In a little over five years Social Media Week has built a dynamic platform for communities across the globe to discuss how social media and communication technologies are impacting lives on a local level. To date 26 cities and over 80,000 people have participated in SMW. In 2013 the SMW Lagos Team had the pleasure (and challenge) of widening the lens to include for the very first time an African city – Lagos, Nigeria.
About Red Media Africa
Red Communication is a PR & Communication firm under the parent company, RED. An innovative media group focused on Africa, RED's vision is to excite and empower an evolving generation through the media's limitless possibilities. Built across tools and platforms, its Communication Division holds Red Communication, Red Marketing and Small & Medium, and YouthConnect; and its Content Division holds the Y! brands, including Y! TV, Y! Magazine, YNaija.com, Teen Y!, Y! 2015, the Y! Tech 100 and the Y! Annual Black Ball/Y! 100 Most Influential List. It also anchors a development firm, The Future Project Africa, which co-presents Africa's leading youth platform, The Future Awards Africa, and other projects including the Nigeria Symposium for Young & Emerging Leaders and The Future Enterprise Support Scheme.
KATE HENSHAW, ADEBOLA WILLIAMS, SUBOMIPLUMPTRE ON TH E SMWALDER PANEL
LEKE ALDER
OMOBOLA JOHNSON