2011: OPERATION STOP IBB, NORTHERN ELDERS PLOT EX-MILITARY PRESIDENT'S FALL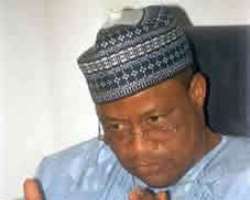 2011: Operation'Stop IBB'
•Northern elders plot ex-military president's fall
…Buhari shops for running mate
From ISMAIL OMIPIDAN, Kaduna
Monday, March 15, 201o
IBB
After series of meetings in Kaduna, Abuja, Sokoto and lately Lagos, members of the opposition parties, who are likely to name their new party any time soon, may have settled for two-time former presidential candidate of the All Nigeria Peoples Party, ANPP, Major-General Muhammadu Buhari (rtd) as its presidential candidate for 2011, Daily Sun has learnt.
The opposition, most of who are members of the National Democratic Movement, NDM, may have reached this conclusion after its last stakeholders' meeting, held in Lagos about two weeks ago.
The initial setback the group experienced, sources hinted, was necessitated by the insistence of one of the leading lights of the group to run with Buhari, as his running mate in 2011.
However, sensing that the electorate may not be too comfortable with a Muslim-Muslim ticket, the group through persuasions had to impress it on the aspirant to see reason to drop his ambition in the interest of Nigeria.
'I can confirm to you that we have put that behind us, as he (aspirant) has seen the urgent need to drop his ambition so as to sustain the cooperation that have been made possible by the coming together of former Vice President Atiku Abubakar, Buhari, former Lagos and Sokoto State governors respectively, Senator Ahmed Bola Tinubu and Attahiru Bafarawa.'
The source was, however, noted that the stakeholders are yet to decide on whom the running mate would be, including where he would come from. What is however settled, Daily Sun further learnt, was the fact that South-West was not going to produce the running mate, as the candidate would come from either the South-South or the South-East. But this fact was contested by another member of the group who, however, is a chieftain of the Action Congress (AC), who said that South-West has not been completely ruled out in the race for the running mate.
According to sources within NDM, three aspirants are expected to be presented to both Buhari and the stakeholders, from among them, one would be picked.
As at the time of filing this report, it was not clear who among the names that have been bandied around in the past would make the list.
Prominent among the names that have been bandied around in the past, especially before the 2007 presidential elections were former Senate President, Ken Nnamani, Tinubu, Edo State Governor, Comrade Adams Oshiomhole and political lawyer, Mike Ahamba, SAN, who incidentally prosecuted Buhari's petitions in court against Obasanjo in 2003 and against Yar'Adua in 2007.
But when contacted, another leading chieftain of the AC, told Daily Sun that it was not correct to say that the opposition has settled for Buhari, especially because the group was yet to decide on who flies the flag of the opposition.
The source was, however, quick to add that it was true that Buhari was one of those being considered as possible presidential candidate, even as the source further said that it was not correct to say that the South-West had been ruled out of the running mate contest, adding that 'what we are waiting for is their proposal, to say, this is what they have, and we now put the proposal side-by-side with our conditions.'
To name party soon
Daily Sun gathered authoritatively that the name of the party, is either going to be Action Congress of Nigeria (ACN) or Action Congress Party (ACP). Our sources hinted that in the new arrangement, the new opposition party would retain both the logo and the symbol of the AC, so as not to confuse the larger followership of the party.
Buhari's camp keeps mum
All efforts to get Buhari's camp comment on the latest development on record proved abortive, as those who agreed to speak only did so in confidence. One of them told Daily Sun that 'as things are, it would be too earlier, to start commenting publicly on what you want me to comment. But what I will rather say is that, when we get to the bridge, we will cross it. I think when that time comes, I will speak on record with you.'
However, things around Buhari's office in Kaduna, point to that fact, even if the opposition is yet to make him its candidate, the former Head of State was set to run again in 2011. There are series of imposing posters in some of the offices, with inscription such as 'It's time for change,' among others. Besides, the retired General has been hosting politicians from far and near, including Kebbi State, and sources say all efforts are geared towards 2011.
Interestingly too, most of his supporters, who this reporter has interacted with in recent times in Argungu, Kebbi, Kaduna, Katsina, Abuja and Maiduguri, have never hidden the fact that come 2011, Buhari was going to try his hand again on the Presidency.
The Ghana option
Daily Sun learnt that part of the arrangement put in place by the opposition was to woo acting President Goodluck Jonathan to its side, so as allow a replay of the Ghanaian experience, where an incumbent supervised the defeat of his party by the opposition party in that country:
'You see, this man called Jonathan is not ambitious. Already, the PDP has foreclosed any possibility of giving him the ticket. And since the man after acting as C-in-C cannot turn around to be a running mate to anyone, we are looking at the possibility of entering into an alliance with him, so that whoever we are bringing on board would just spend one term, and we allow Jonathan to run subsequently.
'And from the type of person we see he is, he may even say he does not want to run at all, and still go ahead to provide a level playing ground, for us to take over power in 2011,' one of the leading members of the NDM told Daily Sun.
Plots to stop IBB thickens
Meanwhile, northern elders, who are not favourably disposed to General Ibrahim Babangida's candidature for 2011 have began subtle campaign in the north to stop him from running. This is even as the IBB's group has also stepped up campaign to canvass support for the former Military President.
Only last Friday, one of the anti-IBB's meetings was held in Kaduna, at the instance of a former Defence Minister under former President Olusegun Obasanjo.
The meeting, Daily Sun gathered, was attended by prominent northern elders, including a former Finance Minister. Interestingly, the Kaduna meeting coincided with the movement of the IBB's sensitizing group, led by another former Agriculture Minister under former President Obasanjo to Borno and Kano states respectively, last weekend to meet with stakeholders in those areas on the need to support the IBB project.
But a die-in-the wool IBB supporter, who though was not part of the anti-IBB meeting held in Kaduna, has advised the former Military President not to contemplate running in 2011. He is Alhaji Mohammed AbdulRahman, a chieftain of Arewa Consultative Forum (ACF) and founding member of the defunct Northern Elders Forum (NEF).
He told Daily Sun that rather than waste energy on wanting to run in 2011, IBB should use his contacts, experience and connections to influence who would emerge as the President. He wants IBB to play an advisory role in the country's search for a 'credible and purposeful,' leadership.
'I am aware so many people are urging him to run. But for me, I will advise the General to organize them, and find a leader from among them to lead us in 2011. PDP as a party is misbehaving today because we don't have a good elder from among them that will call them to order, I think it is high time IBB assumes such a role. If IBB can do that politics in Nigeria will change. IBB's current position in the scheme of things in Nigeria is more than that of a President of a country.
'Look at the crowd, when he lost Maryam, how many people out of power can pull such a crowd in this present day Nigeria, especially considering the timing? So that tells you that IBB occupies a special place in this country, and as one of his admirers, I would not want him to lose that prestige. So instead of him running, I will advise him to find a suitable candidate from among those he believed in and put such a person forward,' AbdulRahman added.
However, another IBB supporter based in Kaduna, Alhaji Hassan Mohammed Jallo, disagreed with AbdulRahman. Jallo, a chieftain of  the Peoples Democratic Party (PDP) in Kaduna State said that PDP should not dream of wining 2011 Presidential election if it fields any other candidate other than IBB.
He claimed that the present crop of leadership in the country under the PDP has failed the nation, and so should give way to IBB and his team in 2011 to steer the ship of Nigeria to an enviable height once again.
While noting that the PDP has been the country's problem especially for imposing ailing Umaru Musa Yar'Adua on Nigeria, he warned that the party was doomed should it field Yar'Adua for 2011 election:
'PDP should not make the mistake of giving Umaru Musa Yar'Adua the ticket in 2011 because no Nigerian will vote for Umaru and PDP cannot rig Umaru into power in 2011. I am telling you this without fear of any contradiction. I know PDP as a master rigger; we cannot rig Umaru into the Presidency in 2011. If they field Umaru in 2011, PDP will lose that election.
'I still repeat and I can repeat anywhere, that there is nobody that can fix Nigeria except IBB, and the only way PDP can win election, landslide victory is for the party to give IBB the ticket, only IBB can win election for the PDP come 2011. If PDP dares put any candidate apart from IBB, they will lose the elections.'
Last line
As things stand, 2011 presidential election is likely going to be a straight fight between Buhari and anyone the PDP would be presenting. Will Buhari be third time lucky? Only time would tell.