Deadly Libyan military plane crash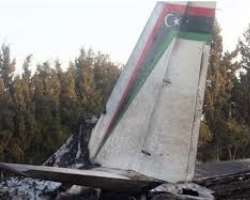 A Libyan military plane carrying doctors and patients has crashed in Tunisia, killing all 11 people on board, officials say.
The Antonov plane came down in a field near Grombalia, about 40km (25 miles) south of the capital, Tunis.
It was carrying three doctors, two patients and six crew, a Tunisian rescue worker said.
The BBC's Rana Jawad in Tripoli says Libyans often get medical treatment in Tunisia as standards are higher.
The crash is said to have resulted from engine failure.
"The whole plane was completely burnt out. The emergency services went to the crash site and recovered the charred bodies," said emergency services spokesman Mongi El Kadhi.