Diamond Bank donates 33-seater bus to NYSC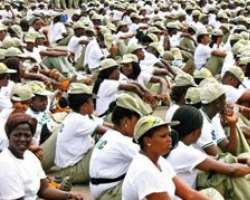 Diamond Bank Plc, a leading player in the Nigerian retail banking space, has donated a 33-seater bus to the National Youth Service Corps (NYSC) as part of its strategy to empowering future leaders as well as fostering unity in the country.
The Executive Director, Northern Business, Mr. Oladele Akinyemi, who made the presentation on behalf of the bank, said that the gesture was made in demonstration of Diamond Bank's support for the ideals of NYSC scheme.
Speaking at the official handing over event of the bus which was held at the NYSC headquarters in Maitama, Abuja, Akinyemi said: 'Diamond Bank is very interested in contributing its quota towards national development. One of the ways in which we have chosen to do this is by supporting the NYSC. We have done our homework and we have noticed several areas where we can assist the NYSC and one of the areas is in providing a means of transportation for the staff and corps members.
'Another area that we intend to look closely into is empowering corps members. This is not a one-off event as we will continue to look for ways in which to partner the NYSC to ensure that the scheme continues to empower the future leaders of this country,' he added.
In his response, The Director-General of the National Youth Service Corps (NYSC), Brigadier-General Johnson Bamidele Olawunmi thanked Diamond Bank, noting that the donation was a fitting response to President Goodluck Jonathan's call to the private sector to support the NYSC scheme.
According to him, 'The idea of corporate social responsibility is for corporate entities to give back to society. That is exactly what Diamond Bank has done today. We are especially appreciative because they have risen to the challenge from President Jonathan for the private sector to support the NYSC. This gesture will help the NYSC especially in conveying corps members and staff whenever they need to transit from rural areas. We are grateful to Diamond Bank for this wonderful bus and we also call on other corporate bodies to emulate the bank.'