Shettima in Villa again, briefs Jonathan on latest Bama attack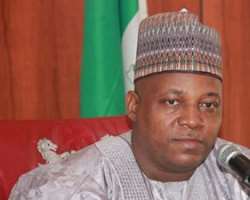 Barely 4‎8 hours that Governor Borno State, Kashim Shettima visited President Goodluck Jonathan to brief him on the attack by suspected members of Boko Haram in some villages in his State, he came back to the Villa today to brief the President on the latest attack in Bama which occurred in the wee hours of the yesterday.

The governor met President Jonathan for about one hour but declined to answer questions correspondents but said, "I don't want to comment. He is our President and I am here to update him on the goings on in Bama and I don't want to make additional comments.

On his mission to the villa for the second time in 48 hours, Shettima said "Do I need your consent to come and see my President? He is the President of Nigeria and I need to update him adequately on the goings-on in the state."

On the latest attack on Bama which occurred around 4 a.m on Wednesday, the governor said: "There was an attack on Bama. We are yet to get the actual number of casualties but I was told they have inflicted a lot of damage on the town, otherwise the military men are doing their best."


On whether he was summoned, Shettima insisted that he came on his own to update the President on the Bama attack and was not summoned to explain his Monday comments.

"I came on my own. He is the President of Nigeria for God's sake. Why can't I come and update him? Is it wrong or is it a crime to do so?"
‎
It could be recalled that Shettima was in the Presidential Villa on Monday to brief President Jonathan on the Idzghe killings that over hundred people dead at weekend, where he admitted that the Boko Haram sect were better equipped and motivated than the Joint Task Force team in the region.


Already the Presidential Adviser on Public Affairs, Dr Doyin Okupe in response to Shettima had faulted the governor's claim.