Bitflux Wins 2.3 GHz Spectrum Auction with $23.1m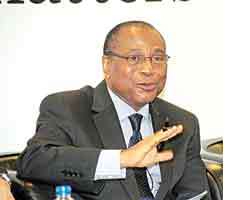 Bitflux Communications Limited has emerged winner of the 2.3 GHz spectrum with a bid of $23.25 million to beat Globacom, National carrier.
NCC had, in a public notice, made available on its official website, announced only Globacom Limited and Bitflux Communications Limited as the approved bidders for the 2.3GHz frequency spectrum, whose aution price had earlier been set at $23 million (about N3.6 billion).
Companies such as Zinox Telecommunications, a mobile arm of the Zinox Group, Airtel, MTN, Etisalat as well as Mobitel and Spectranet pulled out of the process.
NCC, said only Globacom and Bitflux complied with the pre-qualification criteria set out in the Information Memorandum for the 2.3GHz Spectrum Auction.
The NCC said: 'The NCC, on behalf of the Federal Government, hereby announces Bitflux Communications Limited and Globacom Limited as the approved bidders for the auction of one Frequency Spectrum License in the 2.3GHz band.
'This is having complied with the pre-qualification criteria set out by the commission in the Information Memorandum for the 2.3GHz Spectrum Auction.'
According to the commission, this is in line with the terms of Information Memorandum published on 2.3GHz Spectrum Auction that the auction will take place on February 19 and 20 in Abuja.
In order to ensure openness in the exercise, the NCC ensured that pre-qualification criteria did not make it necessarily mandatory for applicants to have any telecommunications operational licence in Nigeria.
However, applicants must be companies registered with the Corporate Affairs Commission and must transfer an Intention-to-Bid Deposit of $2.3 million into the designated bank account.
The deposit would bind the applicant to take up a license, should it be a successful bidder, at the reserve price or any higher bid value submitted during the process.
Also, applicants must be independent from all other applicants under this allocation process.
Furthermore, licensed operators participating in the process must fulfill all existing obligations to the commission including payments of annual operational levy and Spectrum and National Numbering Plan fees prior to pre-qualification.
However, the successful bidder will be granted a Whosale Wireless Access Service Licence (WWASL) and the specified fee must be paid before the licence is issued.
The tenure for the WWASL licence will be 10 years and subject to renewal.