'Airtel Money Generates 30M Transactions Worth $1 Billion Monthly'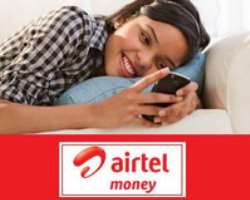 Lagos, Nigeria; 13th February, 2014: With its activities cutting across 15 countries in Africa, the Airtel Money has been described as a significant contributor to the mobile financial sector in Africa as it generates a monthly average of 30M transactions valued at $1 Billion from an active base of 5Million customers.
The Airtel Mobile Money also assists governments, businesses, institutions, NGOs, embassies and schools across the African continent. These achievements among others were brought to the fore by Bharti Airtel's Director and Africa Head, Airtel Money, Mr. Chidi Okpala, who was one of the speakers at the 4th MobileMoney Expo held recently in Lagos.
In his presentation titled 'Airtel Money - Leading Massive Scale Financial Inclusion in Africa,' Mr. Okpala explained that although Airtel Mobile Money came into the Africa market about three and half years ago, it has evolved to become a significant player in Africa's Mobile Money landscape; now well positioned to become Africa's most preferred mobile financial services provider by 2015.
He said, "Leveraging a network of about 140,000 active agent locations, Airtel is currently creating entire cashless payments ecosystems, leading the charge for massive scale financial inclusion and reducing financial transaction costs across Africa."
He noted that a recent World Bank report shows millions of people have mobile phones but do not have financial services, this he said, creates the opportunity for Airtel Money to lead the drive for massive scale financial inclusion in Africans.
Mr. Okpala explained that "Airtel is renowned for revolutionizing the mobile money landscape in Africa with the ground-breaking Airtel Money. It is also on record that Airtel is the fourth largest telecoms company in the world with over 287 million customers with operations in 20 countries.
"Airtel Money is considered a leader in the provision of integrated payments services for governments, businesses, NGOs, embassies, schools and other types of institutions with solutions that meet their everyday payments administration and processing needs. Airtel currently generates a daily average of 1M transactions valued at $30M from an active base of 5Million customers," he added.
Speaking further, he highlighted the contributions of mobile platform, saying it currently operates in 15 African countries and renders significant services to governments and the armed forces. These include processing salaries for governments, workers and members of the armed forces, thereby eliminating problem of ghost workers.
The Bharti Airtel Director also noted that the Mobile Money platform offers convenience to the people, hinting that Airtel Mobile Money will be launched in Seychelles next month.
He described the service is an innovation which enables customers to turn their phones into electronic wallets. "Activating the Airtel Money service allows millions of customers to transfer money to their loved ones across different countries in Africa, to purchase goods in partner shops and to pay their bills. In addition, the service also allows customers to buy airtime
"Airtel Money is available to all Airtel customers. It is a safe and secure service that is PIN-protected through state-of-the-art security systems. Customers do not require a bank account to enjoy the benefits of the Airtel Money service," Okpala said.
Responding to a question bothering on Mobile Money Quality of Service (QoS), Mr. Okpala said agents and customer menu interfaces must be able to provide high levels of consistent customer experience for users and "there must be an effective monitoring, sanctions and incentives framework for agents."
The 2-day event attracted organisations, telecommunications services providers, mobile financial institutions and companies across Africa and the world. The 4th MobileMoney Expo which commenced from Wednesday 12th to Thursday 13th of February, 2014 featured panel discussions, presentations and awards ceremony.
About Bharti Airtel

Bharti Airtel Limited is a leading global telecommunications company with operations in 20 countries across Asia and Africa. Headquartered in New Delhi, India, the company ranks amongst the top 4 mobile service providers globally in terms of subscribers. In India, the company's product offerings include 2G, 3G and 4G wireless services, mobile commerce, fixed line services, high speed DSL broadband, IPTV, DTH, enterprise services including national & international long distance services to carriers. In the rest of the geographies, it offers 2G, 3G wireless services and mobile commerce. Bharti Airtel had over 287 million customers across its operations at the end of December 2013. To know more please visit, www.airtel.com
For more information contact:
Adefemi Adeniran, Head: Public Relations, Airtel Nigeria, [email protected], 0802 222 0616
Emeka Oparah, Director/Vice President, Corporate Communications & CSR, Airtel Nigeria, [email protected], 0802 222 1120