US urges NASS to establish electoral offences tribunal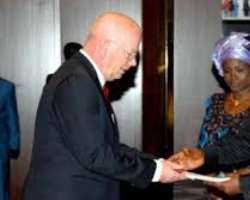 The United States has urged the National Assembly to enact Electoral Offences Tribunal for Nigeria to check electoral malpractices.
The US Assistant Secretary of State for African Affairs, Ms. Linda Thomas-Greenfield, made the call on Monday in Abuja at the opening of the Governance, Transparency, and Integrity Working Group of the United States-Nigeria Bi-National Commission meeting.

The leader of the US delegation also urged Nigerians to hold the judiciary, security agencies, politicians, the Independent National Electoral Commission and the media accountable for free and fair elections.
She said, 'Credible elections are the responsibility of every citizen, every voter. Your right to vote is yours to watch over. The choice is yours to decide not to sell your vote, not to intimidate others, and not to engage in violence around elections. Selling your vote will put money in your pocket for only a day, but ultimately, you are selling your future and your children's future right to freedom and prosperity.
'You must hold your politicians, your electoral commission, your judiciary, your media, your political parties, your security services, and each other accountable. You must vote according to your conscience.'
Thomas-Greenfield said the electoral offences tribunal, if established, would serve as deterrent to electoral offenders.
She said, 'We stand with the Nigerian people who say loudly that they will not accept electoral tampering, overly heated rhetoric, vote selling or buying and violence.
'I have heard my Nigerian friends say, repeatedly, that anyone who engages in such elections chicanery should be held accountable and they are right.
'I encourage Nigeria's National Assembly to pass a legislation that will establish an electoral offences tribunal, a legislation that President Goodluck Jonathan proposed when he was Vice President.'
The envoy who described Nigeria as the second largest destination for US private investment in Africa at some $5 billion said her country was proud to support Nigeria.
The US-Nigeria Binational Commission was inaugurated on April 6, 2010 in Washington, D.C. by former U.S. Secretary of State Hillary Clinton and former Secretary to the Government of the Federation Yayale Ahmed.