We Need A Leader With Good Character In 2015 Says Bishop Umunna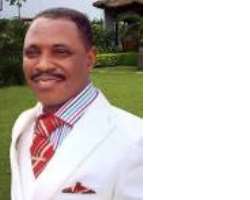 Bishop (Prof.) Leonard Nwoma Umunna is the Presiding Bishop of the Bible Life Church Cathedral (BLCC) international. He is an ordained minister of God with different parts as a shrewdness entrepreneur, an educationist, a talent hunt creator, media supporter, music promoter and producer, a public affairs commentator, grassroots sports facilitator, a creative theologist, a vision instructor, a dramatist, motivational speaker, cultural promoter, a life achiever servant of God, writer, an author and just too numerous to mention. He is the founders of Professor Leonard Umunna Theological University, Leonard Umunna College, Extra Real Nursery and Primary school, Leonard Umunna book shops, Professor Leonard Umunna foundation, Leonard Umunna hospital and other established landed properties to his credit.
He is one of the most favored ministers of God in Nigeria with intellectual, motivational, creative and spiritual sagacity. His numerous challenges in ministry never deterred him from the call of God. As a successful minister of God whose calling was traced to Ajegunle unlike other ministers who made it in Ajegunle and relocated to highbrow areas of Lagos State but Bishop Umunna remains in Ajegunle to fulfill God's plan in his life. A man of God who received his call at 9 and was paralyzed but God saw him through. Bishop Umunna is the only Ajegunle pastor that had offered scholarships to both Christians and Muslims in his schools without qualms.
He believes that education is the best legacy a parent can give to his or her child. In this interview with Godday Odidi with other Lagos- based journalists at his Success Land of the Bible Life Church Cathedral of just concluded second edition of the Annual Sports and Cultural Arrival, he spoke extensively on the national Confab being voted #7billion for on regular sitting as a colossal loss, party politics and other related issues affecting the country.
What motivated you to start this Annual Sports and Cultural Arrival in Ajegunle?
Well, I learnt that many people that are successful today are from Ajegunle but never bothered to impact Ajegunle less privileged ones except few of us. I discovered that many young talents are not spotted out here. So I believe this God's programme will reach out to our young people to harness their talents through grassroots sports in Ajegunle. I am the one sponsoring this event which is capital intensive. We decide to start from the private Nursery and Primary schools in Ajegunle. We don't collect money from any school or pupil to participate. It is a free programme to nurture and develop young talents in Ajegunle. We redirect our cultural values and dresses in our schools. Ajegunle is a place to breed future leaders that can compete in any platform in the world with their counterparts. This second edition of this event has also given us more scientific improvement in our next edition.
Why February 14 to host this programme every year instead of promoting Valentine day?
I believe that Valentine day should be a day to nurture our young ones about their future careers at Sports in Ajegunle and nothing more.
What is your stake towards education in Nigeria?
I have said it many times that something is wrong with our educational system which leadership must be redefined and restructured. The Nigerian economy is poor. There are too many levies on those running private businesses like us. The problems of education in Nigeria are multi-faceted. I have not made any money in running these private schools but decided to provide scholarships for less privileged ones in Ajegunle. We are more interested on policy formulation than implementation.
What is your view on the recent #7billion being budgeted by the FG on the National Confab?
This National conference is a colossal loss to the Nigerian economy. The National conference should not be debated by the National Assembly or the Executive Arm of Government but there should be a referendum where the citizens can participate on the debate whether to hold the National confab or not The National conference is an expensive project that needed to be discarded and to use that funds to fix some other ailing sectors across the country.
How did you describe the recent CBN's governor allegations on NNPC over unremitted $20billion oil subsidy?
The CBN's governor Mallam Sanusi got it wrong and while this allegation is coming too late. Is there any evidence towards that? Is that amount really visible? If the revenue from NPDC, a subsidiary of the NNPC was nothing to go by then Sanusi should provide evidence now.
What is your take on Ogbeni Rauf Aregbesola, the Osun state governor on segregationist policy in the State on education?
Why should such policy being adopted in a united country like ours. For me I offered scholarships for both Muslims and Christians in my schools. We must not differentiate uniforms in our schools. We want to adopt USA system where they are trying to remove prayers from schools. Such policy should be rejected in Osun State. We must operate as one family and Nation. One uniform should be accepted in all government and private schools in Osun state.
What is your view towards the just concluded APC membership registration in Nigeria?
I said it in my 2013 Bonanza night that many countries in the world would congratulate Nigeria for the great political revolution. Every party must adopt its system of registration which the APC has just done to save democracy in Nigeria. Some people called me to register and I told them I am a father to all leaders. I only asked my members to register depends on their choice party. How can a Bishop register?
What is the effect of the massive defection of the PDP to the APC?
It is a revolution from God. President Jonathan's leadership is from God. God brought him for a purpose. That is why I have not commented on Jonathan's leadership since he was elected. 1n 2011 elections, Jonathan was the only credible candidate that worth the position of the presidency and nothing more. In his last ministerial appointments Jonathan told them whether to congratulate them or not. He said he liked to improve on his trying times of life.
2015 is at the corner who do you think will emerge as the next president?
I am not a false prophet that predicts errors rather study the political situation of the country through the revelation of the Holy Spirit. I am not interested in where the leadership comes from in 2015 but I am interested who deliver the dividends of democracy to Nigerians. We need somebody that has the political sagacity and will to deliver Nigeria in 2015. We need leaders of good characters not arrogant ones with tribal leadership.