Umunna Using Valentine Day To Nurture Grassroots Sports In Ajegunle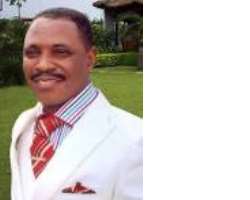 The Presiding Bishop of the Bible Life Church Cathedral (BLCC) International, Bishop (Prof.) Leonard Umunna recently organized his second edition of Bishop Professor Leonard Umunna Foundation of Annual Sports and Cultural Arrival for all Ajegunle private Nursery and Primary schools.
This remarkable event took place at the Success land of the Bible Life Church opposite Leonard Umunna College, Fasasi, Ajegunle Lagos where crème da la crème of journalists, ministers of God, Industrialists, business moguls were all in attendance.
Bishop Leonard Umunna believes that February 14 which mostly celebrated as "Valentine Day" or Lovers Day" every year is a day for him to extend love of sportsmanship to all Ajegunle promising children than celebrating physical love to the opposite sexes. Bishop Umunna's foundation is to give back to the society and resuscitate grassroots sports in Ajegunle. Umunna discovered that most Nursery and Primary schools no longer practice school games again as a result of failure on education and dwindling economy on the part of governments in Nigeria.
The maiden edition of Professor Leonard Umunna Annual Sports and Cultural Arrival was great to the extent that he promised the enthusiastic audience that the second edition of it will be great. He actually fulfilled his promises by given the best event of the foundation. Many people often a time described Ajegunle as a city of poor people where only hooligans reside but Bishop has proved all critics of Ajegunle wrong that he was called to Ajegunle to liberate souls and established his God's own ministry.
He never believed that he can live in Ajegunle because he worked with the defunct Nigeria National Supply Company (NNSC) and rose to the Head of Department and retired meritoriously without any form of callous allegations. He is one of the progressive and creative Ajegunle philanthropic Bishops that have love for less privileged ones without qualms. He is not prepared to amass wealth to himself or try to make his biological children to be among the first equal on earth. He believes that hard work pays to succeed when God has hands on it.
Bishop Leonard Umunna remains one of the sought-after ministers of God in Nigeria that is ready to promote grassroots sports in Ajegunle. In the first edition of the Annual Sports and Cultural Arrival, over 15 Nursery and Primary schools participated and award of gifts and certificates were given to all participated schools while the winners of the event were given special gifts. Bishop Umunna is the sole sponsor of the event and nothing else.
Bishop Leonard Umunna stated this in his opening remarks that the purpose of creating Leonard Umunna foundation of Annual Sports and Cultural Arrival is to spot out talents from these young minds in Ajegunle and also develop and nurture young talents in Sports. It is sad that many successful Ajegunle people who left Ajegunle always give credence to themselves that they once lived in Ajegunle but brusquely refused to develop young talents in Ajegunle with their stupendous wealth. God blessed me abundantly as a Professor cum Bishop but I refused to live Ajegunle to highbrow areas of Lagos State because I want these young minds to be recognized among their peer groups nationally and internationally.
God called me to Ajegunle to make people from nobody to somebody. It is sports will call "do it with love". There is no perfect teacher and nobody is perfect except God. We need to redirect the minds of the youths to focus on their careers than pursuing mundane things of life. It is a valentine day to catch them young not to destruct them with worldly desires. We want to expose the dexterity of young Ajegunle pupils in different fields of sports. I have warned all teachers, principals, game masters, headmistresses and others not to instigate corruption in this God's own ordained competition. We want to explore Ajegunle young potentialities in sports and have the fear of God in their lives. I don't support my school to win rather I want everybody to participate freely without collecting money from anybody to participate. I have warned all judges of the event to be objective.
It is of importance that we nurture our young ones on cultural values and dresses. It is sad that we have lost our traditional culture to Western one. My dress culture depicts my respect for culture which our children must imbibe. It does not take away my calling from God and still remains Bishop Umunna. The age limit for this Annual Sports and Cultural Arrival is that you must be in Nursery or Primary school. I decided to exclude football from this second edition in this event because some external game officials wanted to play fast one on me which I refuted. I am not a partner to corruption as a called minister of God on this planet earth. I hate corruption with disparagement.
I am putting modalities to create standardization in coming events. Though, the grand finale of the football competition will be played by each school that participated. Valentine day means to me to support young Ajegunle dwellers for sports. Over 20 schools participated in the second edition of the Annual Sports and Cultural Arrival were Great Value, Kadmanuel, Rudan, Faithpath, Celsey, Extra Real, Grapet, DavGrace, Lord Care and just mention but a few. Matching forth of schools were observed to salute the host of the event, Bishop Leonard Umunna while different events were outlined like picking the balls, filling the bottles, busting the balloons, 50m and 100m,100m and 200m and modern and cultural parade. Both males and females participated in the event without discrepancy. Cultural display for junior categories (Basic 1-3), talent show and football where Great Value emrged first and second position went to Faithpath and other consolation prizes went to the best performing schools.
Bishop Leonard Umunna also used this medium to thank all the organizing committee that made this event to come to pass. I commended all your efforts. Only God will bless you all in Jesus name. He added that by grace of God, our third Annual Sports and Cultural Arrival will be better because we shall be having table tennis, long jump and others. I am not doing this to gain any fame but to make young people to realize their God's given potentialities in Ajegunle. Ajegenle is a land of discovery and nurturing ideas of people which I started since last year.

Godday Odidi
08058124798
Public Affairs Analyst, Lagos
Disclaimer:

"The views/contents expressed in this article are the sole responsibility of the author(s) and do not necessarily reflect those of The Nigerian Voice. The Nigerian Voice will not be responsible or liable for any inaccurate or incorrect statements contained in this article."
Articles by Godday Odidi