Nigeria's politicians are dishonest -Jemibewon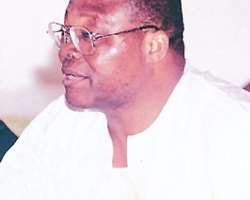 Major General David Jemibewon (rtd) has taken a swipe at  Nigeria's  politicians, saying they are dishonest and materialistic. Jemibewon, who made the declaration in an  interview with Sunday Vanguard  at his country home in Aiyetoro -Gbede, Kogi State, said the present crop of politicians does not have  the interest of the country at heart.
'The problem with this country is that Nigeria's  politicians are dishonest. Both the ruling party and the opposition are not honest. You see elderly men, whom you respect before, saying the kind of things they say, you become sad. And worse  still is the manner they talk', the former Minister of Police Affairs said.
He continued, 'Materialism is another problem with the country. No member of the present crop of politicians has the interest of the country at heart; their personal interest overrides the country's interest. No matter how you want a change, some persons will not allow you. Those benefiting from the system are those who do not want this country to develop. They make sure the system does not support the right change.
'On the way out,  I think there is the need to include nationalism in the educational curriculum; starting from the nursery and primary school. There is the need to review  federal character because it has become obsolete. Federal character must be reviewed on basis of efficiency, competence and quality.'
The one-time governor of Oyo State said development must start from the state level to reduce the tension  at the federal level. 'We must develop through the state. Each state should have its own police and, if not feasible  now, it can be zonal or regional police. Those saying we can't leave the police at the mercy of  state governors  can at least be pacified that no single state governor can control a force organized at regional level.'
Jemibewon  said the  wave of defection  from the PDP to APC was a result of the insincerity on the part of the ruling party. 'Some years ago when some politicians decamped from the then AD to PDP, nobody raised any eyebrow because they moved  to the ruling party. Now that people  are moving from the ruling party,  it has become an issue; that is the insincerity I'm talking about. Decamping of politicians is not a new thing; it's just the rate of decamping from the PDP to APC that is alarming'.
He, however, said the PDP can still salvage the situation if  the present leadership of the party can toe the part of truth; 'otherwise; it will be a difficult situation for the party in 2015.' He said the furore over the eligibility of President  Goodluck  Jonathan to run in 2015 is not necessary as the country's  Constitution and the PDP Constitution allow him to run.