Veteran Yoruba Actor Ajimajasan still lives in a rented apartment at 74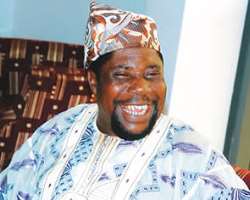 After successfully undergoing another prostrate cancer operation, veteran actor, Ola Omonitan, a.k.a. Ajimajasan, is considering new options.
After he has spent about five decades in the theatre/movie industry, many would hope that veteran Yoruba actor, Ola Omonitan, will have broken even in major areas of life. But this is hardly the case, at least based on the fact that the house in which he resides at Odo Ona, Ibadan, Oyo State, is not his. Put differently, the man who has starred in many productions across the years is still a tenant.
The boisterous actor is not dejected, though. Although he is still hoping for the best, what matters to him mostly now is that he is alive and considerably healthy. In the past few years, he had battled with prostrate cancer which, he says, nearly took his life. Last year, he narrated to newsmen all it took him to bounce back to life. Although he appeared to have conquered the disease then, he was also out of circulation in the last few weeks of 2013.
He told our correspondent on the phone on Tuesday that he was away to the United States, where he went for a further test and surgery. He said it was the Aare Musulumi of Yorubaland, Alhaji Azeez Arisekola Alao, who had footed his bill in the past, that again came to his rescue.
He notes, "When I went to his house about two months ago, he observed that I was lean. He asked me if there was any problem again. I told him I wouldn't know. That was how he arranged for my trip back to the US, where the doctors tested me and performed another surgery on me. I came back alive and healthy. That is why I say that whatever my socio-economic condition now, I have cause to thank God."
Thanking Arisekola, Ajimajasan recalls that he actually had a house project he was working on some years back. But he had to sell the uncompleted building when he was battling to save his life.
'That was before Are Arisekola knew about my plight. Since then he has been very helpful. I asked him when I returned from the second medical trip abroad: 'You are the Aare Musulumi, I am a Christian. Yet, you have been helping me. Why?' He told me that God does not ask anyone to discriminate against any human being," Ajimajasan, who is also otherwise called Baba no Regret, adds.
Stressing that he is back in form now, he says he was recently on location with the likes of Akin Olaiya and Oga Bello, for Ko se Tu – a movie produced by the latter. He adds that he is also planning to produce a political film because, according to him, politics should be for the benefit of the generality of the people.
And this is not funny: The over 74-year-old Ajimajasan seems so charged that he says he wants to go into politics. Active politics!