THE HOLLIES MISS ROCK 'N' ROLL HALL OF FAME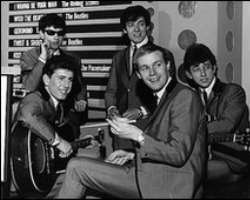 The Hollies played on the first episode of Top of the Pops in 1964
The two remaining original members of pop group The Hollies are to miss the group's induction into the Rock 'n' Roll Hall of Fame in New York.
The group, who had more top 40 singles than the Beatles in the UK up to 1975, are being honoured alongside Abba, Genesis, The Stooges and Jimmy Cliff.
But drummer Bobby Elliott and guitarist Tony Hicks will not be there because the band are on tour in the UK.
They will be represented by former members Graham Nash and Allan Clarke.
"I wish them well and I hope they bring my award back in one piece," Elliott said.
The Hollies, whose singles included He Ain't Heavy He's My Brother and The Air That I Breathe, had more US hits than any other British band except The Beatles and Rolling Stones between 1964-75.
Elliott told the BBC that the current band's UK tour had been in the diary for 12 months when the Hall of Fame accolade was announced, and they could not reschedule.
"There was no way we could get an alternative date for these venues," Elliott said. "We're just a bit hamstrung, we couldn't get there.
"Our fans in this country are a priority. It's a great honour to be in the Rock 'n' Roll Hall of Fame, no doubt about it. But it's just one of those things. What would we do?"
Elliott and Hicks are performing with the band's current line-up at the London Palladium on Sunday, a day before the US ceremony.
Steve Van Zant from Bruce Springsteen's E Street Band will present the honour to Nash – who formed Crosby, Stills, Nash and Young – and Clarke.
The Hollies had a squeaky clean image – but Elliott said that they deserve to be ranked among more raucous rock stars.
"There used to be a rumour that the [Rolling] Stones would go in and wreck the hotel rooms, and then The Hollies would check in later and tidy them up again, but that's not really true.
"I remember being at a Holiday Inn, somewhere in the Midwest, which had an indoor pool.
"The following morning when I got up and there was an upright piano pirouetting on the end of the diving board. It was one of our lot but we've never found out who did it. That was a good night."