N1bn Fraud: Ajudua Asks Court To Order Bamaiyi's Trial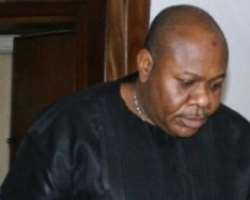 Fraud suspect, Mr. Fred Ajudua, has urged a Lagos High Court, Ikeja, to compel the Economic and Financial Crimes Commission to try a former Chief of Army Staff, Lt.-Gen. Ishaya Bamaiyi (retd.), for money laundering charges.
Ajudua stated this in a fresh application he filed before the court to challenge the competence of the 14 counts of fraud preferred against him for allegedly defrauding Bamaiyi of $5.9m (about N1bn).
According to Ajudua, Bamaiyi's petition and statements to the EFCC, disclosed self-confession to various crimes, including conspiracy, aiding and abetting, money laundering and corrupting of public officers.
The scheduled arraignment of Ajudua for allegedly swindling Bamaiyi between November 2004 and June 2005, was stalled on Wednesday because of the fresh application.
Part of Ajudua's five prayers in the application is that the court should compel EFCC to prosecute Bamaiyi and others. He also asks for the quashing of 'frivolous charges' preferred against him.
Those Ajudua is asking the EFCC to try alongside Bamaiyi are Lawal Danladi Yaro, Abdullahi Garba, Martha Bamaiyi, Garba Tagda, Mohammed Abubakar, Lt. Col. Timothy Chechet, and Sam Kwendo Bandi. He wants them tried for offences of conspiracy, aiding and abetting, money laundering and corrupting of public officers.
According to the charges preferred against Ajudua, EFCC alleged that the accused defrauded Bamaiyi while they were both on remand at the Kirikiri prison for separate alleged crimes.
Ajudua was said to have defrauded Bamaiyi through false claims that the money represented the professional fees charged by Chief Afe Babalola (SAN) to handle Bamaiyi's case in court and to facilitate his release from prison.
The suspect's counsel, Mr. Olalekan Ojo, opposed the application by the prosecuting counsel, Mr. Seidu Atteh, requesting the court to order the accused to take his plea on Wednesday.
He said that in view of previous Supreme Court decisions, an application challenging the competence of the charges should be taken first before the arraignment.
Justice Oluwatoyin Ipaye ordered the EFCC to respond to the application within seven days; and gave two days to Ojo to file any possible 'further reply' to EFCC's counter-affidavit.
The judge has fixed February 27 for the hearing of the application.