Total Appoints First Female Managing Director For Its Upstream Companies In Nigeria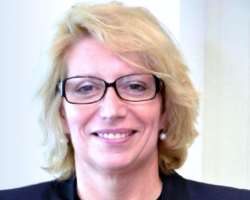 Mrs. Elisabeth Proust has been appointed Managing Director/Chief Executive of the Total upstream companies in Nigeria (consisting of Total E&P Nigeria Ltd, Total Upstream Nigeria Ltd and several other subsidiaries) and as the Total Group representative in Nigeria, with effect from Wednesday, February 12, 2014. In her new position she becomes the first female Managing Director in the over 50 years history of the company in Nigeria. Mrs. Proust succeeds Mr. Guy Maurice who has been assigned to other duties in the Total Group.
"We have great confidence in the ability of Mrs. Proust to steer the ship of the upstream companies in Nigeria at this critical period in the Group's activities in the country" stated Yves-Louis Darricarrere, Upstream President of Total SA.
Mrs. Proust arrives in Nigeria with over 34 years extensive experience in the oil and gas industry.
Elisabeth Proust is a 1979 graduate of Mechanics and Marine Hydrodynamics from the Mechanical Engineering School (ENSM) in Central Nantes, France and also has a degree in Petroleum Engineering from the French Petroleum Institute (ENSPM) Paris, both in France. She joined Elf in 1980 and started her career with ten years of hands on experience as a driller.
Mrs. Proust has held key technical and managerial positions in Exploration and Production in various Total subsidiaries in France, Cameroun, Brazil, Angola, the Netherlands and Russia. Between 2004 and 2008, She was later Vice President Development Engineering and Head of Petroleum Engineering Competence for Total worldwide.
In December 2008, Mrs. Proust was appointed President and Managing Director for Total E&P Indonesia. She was also the chief executive for 15 other Total companies in Indonesia and the Total Group representative for the refining/chemicals and marketing divisions. Mrs. Proust was the President of the Oil and Gas Association of Indonesia, the first woman to hold such a position in the country. She served in this capacity until her current posting to Nigeria.
For further information, contact:
Charles Ogan, Deputy General Manager – Policy, Media & Coordination

Mobile: +234 (0) 807 017 7073, +234 (0) 703 413 05
E-mail: [email protected]
Total is a leading international oil company and a world-class operator in gas and petrochemicals with operations in more than 130 countries. In response to rising energy demand, the Group is stepping up its growth in solar energy and biomass. More information about the Total Group can be found on the website: www.total.com.
In Nigeria, the activities of the Total Group are carried out by Total E & P Nigeria Limited, operator of the NNPC/TEPNG Joint Venture, Total Upstream Nigeria Limited and various Total E & P Deepwater subsidiary companies with emphasis on, and best practices in, corporate social responsibility, health, safety & environmental protection and Nigerian Content development. For further information on the upstream activities in Nigeria, visit the website: www.ng.total.com