Jega cautions politicians against unguarded utterances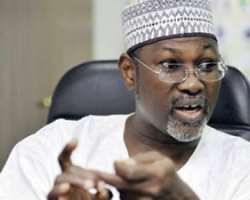 Prof. Attahiru Jega, the Chairman, Independent National Electoral Commission, has advised politicians to guard against utterances that can trigger violence as the 2015 elections are gathering momentum.
Jega made the call at a forum on 2015 elections' coverage organised by the National Broadcasting Commission in Abuja on Tuesday.
He expressed concerns over lack of civility in the conduct of some politicians, urging them to give priority to national interest in ensuring peaceful political atmosphere before, during and after 2015 elections.
'The attitude of political class is one of our biggest challenge in INEC, politicians have a responsibility to change their behaviour to stop overheating the polity,'' Jega said.
He called on members of various political parties to adhere strictly to their parties' code of conduct to avoid acts that could result into violence in the country.
According to him, politicians must learn to obey the rules of the game by abiding to the political party code of conduct which they have signed and promised to obey.
The INEC chairman urged the media to play the role of watchdog in monitoring the conduct of political parties in the country, saying media should hold parties accountable to their code of conduct.
Jega, who described the media as a vital instrumental of societal emancipation, advised reporters to ensure objective and balance reportage to avoid misleading the public.
Reacting to the critique of the 2015 general elections timetable, Jega said the timing was in the best interest of the country.
He explained that the choice of the time table was in line with the recommendation of the Justice Uwais Electoral Reform Committee in order to give time for litigations before handing over date.
He added that it was not intended to favour any party or contested as alleged by some politicians, which he described, as 'partisan concern intended to overheat the polity''.
Jega, however, reiterated the commission's readiness and commitment to conduct free, fair and transparent elections in 2015.
'We feel very optimistic that the 2015 general elections will be much better than the 2011 elections,'' he said.
The U.S. Ambassador to Nigeria, Mr James Entwistle, said for elections to be credible, citizens need to have an accurate view of what was going on in their country.
Entwistle advised the media to educate and enlighten the citizens to ensure that voters have informed options about the candidates they were voting for. NAN