Arguments with opposition don't bring positive results -Mu'azu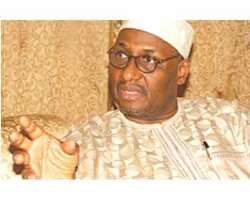 The National Chairman of the Peoples Democratic Party, Alhaji Adamu Mu`azu,  has asked members of the party not to drag themselves into fruitless arguments with the opposition.
He said it would be wrong for members of the party to engage members of the opposition in what he said would not bring positive results to the party and the nation.
Mu'azu, who spoke in Abuja on Tuesday when he received members of the party from Kaduna State, led by the Governor,  Alhaji Ramanla Yero, therefore asked the members to put the interest of Nigeria first in whatever the do.
He said, 'You must engage in discussing topical issues and issues that matter to the people and affect the lives of the common man.
'Do not drag yourself into argument with people that do not know what they are doing, taking about trivialities, ethnicity,  religiosity and regionalism.
'These are not the issues Nigeria wants now because the country is one single and indivisible nation. We must continue to make sure that we do whatever it takes to keep us strong and make the country united.'
He, however, pleaded with the people of Kaduna State to continue to cooperate with Yero, saying this was critical to ensure good and purposeful leadership in the state.
The party national chairman added that the cooperation of the people of the state was also critical to ensure that Yero continued to build on the legacies of his predecessor.