Nigeria Targets Rice Export From 2017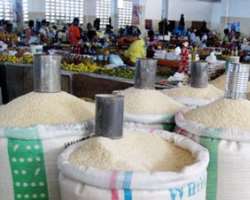 The Federal Ministry of Agriculture weekend stated that Nigeria would be a net exporter of rice in 2017 due to the massive increase in the milling capacity of rice in the country.
The Minister of Agriculture, Dr. Akinwunmi Adesina, explained that the capacity for rice milling went up significantly by about 300 per cent, maintaining that the springing up of new investments from local investors in the country, would ensure that rice importation ceases to happen in the next four years.
Adesina who was on a working visit to the Federal Institute of Industrial Research Oshodi (FIIRO) stressed that Dangote's $300 million investment to produce rice locally is a welcome development, pointing out that Nigeria is on its way to be self-sufficient in meeting its demand for rice and also a becoming a net exporter of the food crop by 2017.
'I am delighted that people want to eat locally made rice. When the President Goodluck Jonathan  launched the Agricultural Transformation Agenda (ATA), he said Nigeria has no business in importing rice. So we started, under his leadership two years ago, a rice transformation agenda for Nigeria,' he said.
According to him, in 2012 dry season, Nigerian farmers in the North produced a record of 1.1 million metric tonnes of rice, which is about 37 percent of all the rice that the country needs to be self-sufficient.
'We launched the dry season farm support programme in order for us not only to be producing during rainy season but also in the dry season. Our expectation this year is that we would produce close to about 2.1 million metric tonnes of rice in the dry season,' he said.
'When the President announced this initiative, we were looking at targeting 400,000 farmers and as we speak, we are reaching about 600,000 farmers. Local investment has helped us in producing long grain and quality fibre rice,' he added. He commended FIIRO's effort in replacing barley malting with sorghum saying that this move by the agency was revolutionary.
'FIIRO is a very strategic institution and I feel it should be given a whole lot of fund to showcase its technology to many of their farmers,' he said.
He also lauded FIIRO's High Quality Cassava Flour (HQCF) 20 percent inclusion in bread adding that, replacing 20 percent of the wheat input in bread making would put about $240 billion in the pockets of Nigerian farmers.
'We would revive our own rural economy; we would provide job opportunities for all over. This is all about us and we are determined to work together with FIIRO. The 20 percent inclusion is the power of research and development in making things happen and I am very impressed and proud about it,' he added.
Earlier, the Director General, FIIRO, Mrs. Gloria Elemo, said the ATA is really working and its dividends are not in doubt.
According to her, the ATA has turned the agricultural landscape in Nigeria resulting to increased agricultural output; job creation; wealth creation; better ratings by international community and most importantly achievement of the transformation agenda of the President.
She stated that most of the technologies developed at the institute have been found to be very relevant and suitable to the ATA most especially cassava, yam, sorghum, rice agricultural value chains.
She noted that the institute's research and development in cassava processing which started way back in the 60s has formed the basis for the cassava flour inclusion in wheat flour for bread and confectioneries making in the country.
'The institute shall be eternally grateful to you for bringing cassava bread initiative into limelight again having realized the great benefits and potentials of this initiative to the common citizen and the nation as a whole,' she said.
'We are ready to work with you to drive the national economy for sustainable development through agro processing and development of agricultural value chains. Our expertise in this area is undoubtable and our track records have shown evidence of performance and effective delivery of project objectives,' she stressed. Thisday