Dangote seeks regulation of cement industry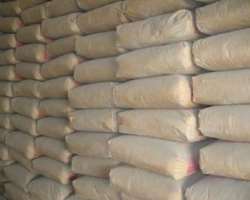 The management of Dangote Cement Plc has called for the regulation of the cement industry in order to rid it of substandard products.
The company made the call following the threat by the coalition of civil society groups and professional bodies in the construction industry to lead protests against manufacturers and importers of 32.5mpa grade of cement.
The Standards Organisation of Nigeria had set the minimum standard at 42.5mpa in line with international quality benchmark.
The Director, Sales and Marketing, Dangote Cement, Mr. Ekanem Etim, said the company's adherence to global best practices and SON's regulations informed the production of the 42.5mpa grade of cement in all its factories.
He said, 'Dangote Cement is a key player in the industry and believes that Nigeria deserves the best. The SON approved 42.5mpa grade upon domestication of cement production and we believe the standard should not drop and upheld it.
'We believe we have to give back to the society so that the incidence of building collapse can be tackled and the use of poor building materials stemmed.'
According to Etim, the 42.5mpa cement grade possesses higher strength capability and can be used for concrete structures and columns, while the 32.5mpa grade can only be used for certain aspects of building construction like plastering and rendering, among others.
He added that over the last few years, the company had been engaged in educating block moulders and other cement users on the appropriate use of the product.
Etim called on SON to step in so that substandard cement would be taken off the market and the manufacturers would held responsible for the quality of their products.
He said, 'How come during the import era, we were all compelled by the regulatory authorities to bring in 42.5mpa grade, but since 2012 when importation was banned, the same regulatory authorities are condoning the production of 32.5 grades?
'If SON says the standard is 42.5mpa, then every manufacturer should abide by that decision. To that extent, we believe that compliance is better so that Nigerians can get the best from what we produce.'
Etim said the production costs of the 42.5mpa and 32.5mpa grades were the same and a large percentage of consumers were not aware of the different types of cement available to them, adding that their expectations in respect to the performance of the product were the same regardless of the type.
The Group Head, Corporate Communications, Dangote Group, Mr. Tony Chiejina, said there was the need to clarify the mix up in the industry, adding that nearly all the cement manufacturers and importers in the country were in the habit of taking advantage of the lax regulation and lack of enforcement to vary the product's pigmentation in favour of lower grade cement.