Tambuwal absent as Jonathan ushers Bafarawa into PDP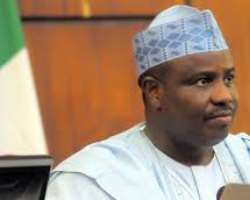 A notable absentee at the rally by the Peoples Democratic Party (PDP) in Sokoto State on Saturday where President Goodluck Jonathan received former governor of the state, Alhaji Attahiru Bafarawa, from the All Progressives Congress (APC) back into the Peoples Democratic Party (PDP) was the speaker of the House of Representatives, Alhaji Aminu Tambuwal.
Tambuwal, an Sokoto State , was conspicuously absent at an event held in the state, which drew notable office holders and party leaders in the PDP fold from across the country.
The speaker, despite his recent assurances that he would remain  in the PDP, is closely associated with the leaders of the APC and is seen as one of those waiting on the wings to defect to the opposition party.
It will be recalled that the same speaker openly attended and received the Governor of the state when he was suspended by the party last year.
. President Jonathan, while speaking at the event,  announced that the party would kick-start its nationwide rallies next week to bring home to Nigerians the successes of the administration, urging the people of Sokoto State to ignore 'the lies' that they were being told by the opposition.
Prominent party leaders that attended the rally include Vice-President Namadi Sambo, Senate President David Mark, PDP National Chairman, Alhaji Adamu Mu'azu; and many PDP state governors, ministers and chieftains of the party.
Jonathan said, 'We want to use Sokoto as an example to show all others that PDP is still the major party in this country. We are going round after this rally in Sokoto state. Next Saturday, we will be going to Imo State. The other week, we will go to Kano State. We may also go to other states, but the national committee is also working out our zone rallies.
'We want to go round the country, all the zones and to tell Nigerians that PDP is still the number one party. And we want to do this before we start election because from the middle of this year, people will begin to become aspirants, because PDP has not turned to anybody,' he said.
In his address, Sambo commended Bafarawa for his bold initiative in joining the PDP with his large followers.
Senate President Mark called on those wishing to join the party to do so promptly in order not to be caught napping, saying that 'the umbrella will soon be filled up; those wishing to join should better do so on time.'
Bafawara assured the PDP leaders that with him in the state, the state would be delivered to the ruling party.