Man U players plan mass exodus at the end of season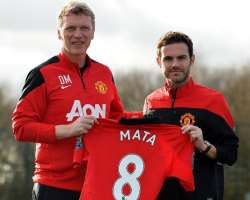 Manchester United captain Nemanja Vidic's announcement that he will leave the club when his contract runs out at the end of the season has only fueled speculation that a mass exodus will take place now that they have begun to struggle under David Moyes. Here's a list of players likely to leave.
Rafael - His twin brother was sold to Cardiff, which obviously means it's just a matter of time before the Welsh club completes the set. In January, Rafael said that he wouldn't be leaving the club, but he said it on Instagram, so his words were probably distorted by some kind of sepia loyalty filter.
Patrice Evra - Like Vidic, Evra's contract is up at the end of the season and Moyes has made no secret of how much he wants to pry Leighton Baines away from his old club.
Rio Ferdinand - Seems a foregone conclusion that the 35-year-old defender is on his way out. Plus, this being a World Cup year, he needs to focus on rebooting Rio's World Cup Wind-Ups.
Chris Smalling - He's playing more this season due to various injuries, but he's not playing especially well. Moyes is especially wary of him since his name is "Smalling" but he's a towering 6'5″. David Moyes will not be deceived.
Phil Jones - His face does weird things and the market research of Man United's 4,872 corporate partners has found that it makes people less likely to buy their products. Gone.
Alex Buttner - Moyes still only knows him as "That Butt Guy." Gone.
Ryan Giggs - At 40 years old, Giggs already has one foot in the coaching staff and at the rate Moyes is going, the club will need him to focus on being the next manager rather soon.
Wayne Rooney - Rumored to be signing an even more massive new contract extension, but he's already threatened/demanded to leave twice and the third time is the charm, so…
Chicharito - Nearly left in January. Refuses to score goes with his face for David Moyes.
Michael Carrick - Mercilessly trolled during a recent Twitter Q&A. Refuses to pass the ball forward.
Ashley Young - Refuses to stand upright, even after Moyes had a private word with him.
Nani - Might not exist anymore.
Danny Welbeck - If he performs well at the World Cup, he'll be able to demand a transfer to a Champions League club.
Robin van Persie - The screaming little boy inside him supposedly wants to go back to Arsenal now that they're top of the table.
Tom Cleverley - It's only a matter of time before we learn his real name is Ted Awkwardly and that he never actually learned how to play football.
Darren Fletcher - He's made a wonderful comeback from his health problems and now realizing how precious one's career as a football is, he will likely want to see out his playing career somewhere with a better chance of winning.
Antonio Valencia - He's likened this season to "a bad dream." He will try and wake himself up this summer.
Shinji Kagawa - Moyes would've sold him in January if he remembered Kagawa was still on the team. He'll find the "Sell Kagawa" Post-It note he wrote up back in September at some point over the next few months, though.
Adnan Januzaj - PSG have been sniffing around and they have the money to tempt Man United (and Januzaj). Zlatan can be very persuasive, as well.
So that leaves David De Gea, Juan Mata, Jonny Evans, Marouane Fellaini, Guillermo Varela, Anders Lindegaard, Jesse Lingard, Michael Keane, Ben Amos and players currently on loan like Wilfried Zaha, Anderson and Bebe. But once the first 19 leave, the rest tend to follow in a panic. That's just how these things work.