Randle Oriaifo: A Man of God With Few Words and Great Exploits.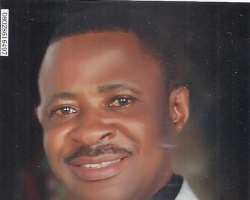 Apostle Randle Oriaifo is the General Overseer of the Prophetic Power Ministry (PPM) International which headquarters is located in a ghetto city called "Ajegunle". He was born on December 22nd in 1961 to a humble family of Chief Oriaifo of Esanland in Edo state. Apostle Randle Oriaifo hailed from Uzebu quarters, Usubgbwu Irua, Esan central local Government Area of Edo State. He attended one of the best leadership schools in Nigeria founded by the great Bishop Benson Idahosa of the Church of God Mission International. The leadership school is called Benson Idahosa Leadership Institute where he came out as the second best graduating student.
As a young man growing up with tall dreams of life and ready to seek knowledge and wisdom first he was able to further his education after his successfully completion of both primary and secondary education. He decided to study political science in one of the Federal Universities where he had flare for politics and law but as fate would have it, he decides to toe the path of God's calling to avoid the wrath of disobedience from heaven. The case of Jonah's in the Bible taught him a bitter lesson of how to respect the voice of God when he calls you.
Apostle Randle Oriaifo is fondly called by his Christian admirers as a man of God that hates poverty with passion. To some Christian circle he is refer to as a man of God with living proof of our time. As the say goes" do not despise the little beginning of any man, Apostle Randle Oriaifo has able to prove to his contested enemies and critics that life is all about making a difference in your environment. Though, he had pastored some churches in Ajegunle before he had the divine call to start a ministry. He believes that living in Ajegunle or your ministry does not make you poor but your mindset that determines your state of life. He had been in the ministry for 35 consecutive years with his age at 54 and Prophetic Power Ministry started in 1995 at one of the slums of Ajegunle called" Onibaba in a soak away with his family only. Today, his ministry is one of the fast-growing mega ministries in Ajegunle and Nigeria. Though the beginning of his ministry was not easy but with God all things are possible in his sight. He stood by his calling without doubt. His major calling is Apostolic prophecies and teachings of winning great souls to Christ with full- fledged commission of divine impactations.He has one of the best designed ministries with tiled in Ajegunle. Many a time, he communicates with his God to destroy poverty out of his sight even when his present ministry was located in a water-logged of Babani Street opposite the Ajeromi- Ifelodun LGA where mosquitoes, rats, bedbugs and other rodents feed but he never gave up and regularly sleeps there only to consult God without rancor. Even when the ministry initially started at Opaleye Street, he had a battle of leadership of the land where his musical instruments were destroyed but never gave up the fight for ministerial growth. Ministerial calling is all about facing challenges of life; it is only those that know their callings can remain in the race like Apostle Randle Oriaifo did. They say" Edo man no dey carry last "which Apostle Randle has fully exhibited in the sands of time. He is one of the progressive Pentecostal pastors in the ghetto city with integrity and has made a significant difference in terms of ministerial beautification in all ramifications. Today, his evangelical team is well groomed with the word of God and leadership discipline. Nobody passes through Apostle Randle ministration or mentorship and remains the same whether young or old. He had a vision of making his ministry sought after in heaven than on earth. He does not believe in Ajegunle ministers' competition and see some as fighters for success.
His ministry is rated as one of the best in the world including world class preachers like David Oyedepo, Matthew Ashimolowo, Chris Oyahkilome, Dr. D.K Olukoya. Enoch Adeboye, T. B Joshua, Williams Kumuyi, Tunde Bakare, Chris Okotie, Dr. Odukoya, Lazarus Mouka and others. He believes that some ghetto pastors are suffering from psychological problem of making themselves greater than others. Inviting outside pastors to minister in your church is good but we need to promote ourselves in Ajegunle. The fear of either preaching in one or Ajegunle ministry to draw members to your church as a pastor must be discarded among Ajegunle top pastors, though it had happened to some pastors within Ajegunle before. Members of a ministry or church belong to God not man. He also sees evangelism as continuity in life and ready to make impact in your immediate environment to attract members to God's own paradise or kingdom. He sees success as not where you live but it is your thought that makes you successful one in life.
Apostle Randle's success story 2014 indicates his godly love for the things of God. He is a man of God who had seen the four walls of university of poverty in life where he wholeheartedly declared to himself 19 nuggets of creative poverty will must avoid in life to his faithful members as follows; Poverty is a great enemy to your happiness, poverty is a reproach to your religion, poverty turns people to slavery, poverty makes you beg the wicked for food, Don't be young and poor, don't be old and poor, poverty is evil, you must hate poverty, poverty is worse than typhoid fever, crush poverty, reject poverty, uproot poverty. Stamp out poverty, hammer poverty, crush sin, reject sickness, uproot disease, stamp out death and hammer failure.
He is a man of God that hates poverty with passion that is why he titled his nugget to his members as the "evil called poverty "His scriptural verses are taken from Deut 8: 18, John1:12. Matt11:28 and John 3: 27. He is an Apostle of sending poverty to the senders without pity.
Apostle Randle was the former chairman PFN Aiyetoro chapter whose leadership remains the best with the support of ever committed secretary Rev. Kingsley Albert, the General Overseer of the Family Flames Church (FFC) who is now the present Aiyetoro PFN chairman. He has written several books yet to published because his commitment to God's kingdom. He has travelled far and wide from South African, Ghana and other notable countries of the world to preach the gospel of Christ. He is a humble preacher to the core. His poverty nuggets will be the first to welcome you if you are a first time visitor or member and with well-equipped reception office with intelligent personal assistant and equipped toilet and bathroom. His
dream to make his members happy in all ramifications. Prophetic Power Ministry is a place to attend.
Apostle Randle is not an arrogant pastor that looks down on people coupled with the fact that he married a virtuous wife that understands his calling to the core. A dark- complexion woman with creative vision of making Prophetic Power Ministry sought after in Nigeria and abroad. He
is a man of God that cherishes mentors which Bishop Egwoa remains his visible mentor that has graciously impacted his ministerial calling. Prophetic Power ministry also has a branch at Oghara in Delta state. He believes that every vision is a raw material but a true vision is a legacy. Apostle Randle believes that thinking right, not just claiming faith but active faith (faith that works). His words" you don't win people you have not impacted but win people you have positively, spiritually and physically impacted.
His services runs from Sundays 8am, Wednesdays 6pm, Fridays 6pm, Communion service every 1stSunday of the month and second Friday of the month is vigil while his counseling office runs within the week of his services to God. The fear of Apostle Randle Oriaifo is the beginning of destroying and sending wicked poverty of Ajegunle to the callous senders. Operation war over poverty in Nigeria by Apostle Randle.He believes that poverty only prospers in someone's life if he or she accepts it. He has granted many media interviews on radio and television stations, magazines and newspapers on the gospel of Christ and nothing more. He has received many media certificates of awards and others too.
Today, Apostle Randle is the ever unshakable servant of God that is bringing a Nollywood star actress, Stephanie Okereke and her husband to his success story 2014 to a live coverage on the 23rd of February 2014 by 8am. It is a gathering of crème da la crème of ministers of God of high repute, gospel artists, journalists, writers, motivational speakers, industrialists, business moguls, oil and gas experts, Bible scholars and others. The Sun, the Nation and TVC will be covering the story success 2014 Live of our great papa Randle of the 21stcentury. You can't afford to miss this episode of Papa Randle of our time. Apostle Randle will also be granting live interview on Supercreen TV on Thursday 20th, February 2014 by 8am of his success story .. It is a programme you must not missed both viewers and members. The Elijah of our time called Apostle Randle Oriaifo.
Finally, Apostle Randle is the mentor of mentors, leader of leaders, writer of writers, author of authors, reader of readers, knowledge seeker of seekers, adviser of advisers, digital transformer of transformers, preacher of preachers, poverty destroyer of destroyers, counselor of counselors, vision creator of creators, prayer warrior of warriors, evangelist of evangelists, prophet of prophets, teacher of teachers, giver of givers, philanthropist of philanthropists, appreciator of appreciators, motivator of motivators, Apostle of Apostles and others. He is blessed with a happy family.
Godday Odidi. Public affairs analyst. 08058124798. Lagos.
Disclaimer:

"The views/contents expressed in this article are the sole responsibility of the author(s) and do not necessarily reflect those of The Nigerian Voice. The Nigerian Voice will not be responsible or liable for any inaccurate or incorrect statements contained in this article."
Articles by Godday Odidi