Comedian AY Talks About His Journey To Nollywood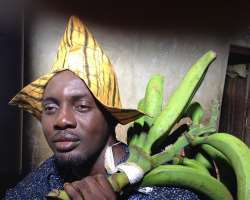 Comedian AY has cracked jokes even in churches that we see him even in places that people are scared of cracking jokes relaxed jabbing the high and mighty, recently the comedian is delving into movie making and he has explained why he wants to diversify in an interview with the Punch.
AY explains "Movie making is something I decided to do to take the brand AY to another level. A lot of people love the skits and sketches that I do; so I came out with a full-fledged story. It is a comical story with the infusion of romance and every other attribute that makes a movie. We did not just start here, we decided to go for something that would equal Hollywood standard. We actually shot it in America and in the movie, you would find the likes of Vivica Fox, Cally Red and a couple of people in Hollywood.
Talking about his style of comedy: "Because of the way I mimic people, a lot of people before now used to tell me that the day Chris Okotie or Obahiagbon would catch me, I would be in trouble.Guess what, Okotie invited me to his church as a sort of surprise package for the members and I cracked all the jokes, all I did was to impersonate his character.
He added: "He laughed to the point that tears came out of his eyes. That is somebody with a good sense of humour. Obahiagbon came to my seat when we were flying together. The truth is that we make these people more popular by talking about them. We are social commentators. Gone are the days when comedians would go out there and talk about how lions are chasing monkeys. Nobody is going to laugh. "