I will avenge my 7 children — Woman who lost all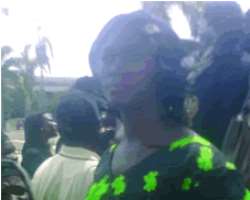 Their stories are like lines from a horror movie. They bring tears to eyes, leave your heart bleeding. They are tales of sorrow by the widows of the last sectarian killings, tales of how their children and husbands were butchered in their in Dogo Nahawa, a village near Jos. With pain dripping from the dirge they sang, the bereaved women virtually brought the National Assembly to its knees as people shed uncontrollable tears. The gate of the complex had been flung open to hundreds of women protesting last week's genocide in the Plateau state capital.
The atmosphere in front of the National Assembly building popularly known as White House was somber, as the shrill voices of women clad in black, with green leaves on their heads pierced through the early morning weather with melodious but sorrowful songs.
They were the voices of the women from Plateau State who had come to National Assembly to protest the dawn massacre on March 7 of women and children in Dogo Nahawa a remote area in Jos South Local Government Area of Plateau State.
As they sang, displaying gory pictures of slaughtered women and children, tears flowed freely from eyes of both the protesters, the on- lookers and even female security agents sent to ensure orderliness of the protest. Journalists were not left out. They forgot for a while their midgets and notepads.
Like a sore thumb in the midst of the women numbering over 600 stood this woman of about five feet tall who was dressed in green and black instead of the complete back that others wore.
She just stood there neither crying nor singing, but sweating heavily when Sunday Sun approached her to know why she was not dressed in full black like others and why she was not singing too.
She muttered in a low voice that her name was Priscilla Sunday and counted seven of her fingers. One of the women apparently watching over her whispered that Priscilla lost seven children in addition to other relations in the massacre.
Spurred to share her experience in the pogrom, the 35-year-old Priscilla said that it was in her presence that some of her children were slaughtered by the rampaging Fulani herdsmen, who invaded her home in the early morning of the black Sunday. By the time the herdsmen retreated to their evil holes and the dust cleared, she lamented that seven of her children had been wasted.
' I cannot describe what I saw with my eyes. My children's heads were cut open with cutlass, their brains spilled on the ground and arrows cutting through their bodies. Why, what have we done?' She asked and burst into tears.
To her, the security agents in Plateau State had failed the people they were sent to protect.  She was so bitter about it that she suggested that all soldiers, all policemen should leave Plateau because according to her, their presence had not done the people of the state any good.
She also suggested that since the security agents could no longer guarantee their safety, they should leave and allow the warring factions to confront each other in a fight, which according to her, would determine who remains in Jos.  'Let us fight so that which ever side wins would remain in Jos. I want to avenge the death of my children', she declared.
Narrating how the villagers were caught napping by the invaders, she said, 'We were sleeping when suddenly we were woken up by sounds of gun shots and people shouting. We did not even know where they came from. These men trooped into our houses and started attacking us with dangerous weapons like guns, cutlasses and clubs.
'It was unfortunate that the children could not run as fast as the elders.  Even toddlers were not spared. What is all this about?  I watched them kill my seven children and others within the compound and there was nothing I or any other person could do.' As these things were happening, no security agent was in sight.  Neither policemen nor soldiers came to our rescue.
We are asking government for adequate security so that we can live peacefully in Plateau.  However, if they can no longer guarantee our safety, security agents should give way and allow us to fight so that who ever wins should stay in Jos.  If they defeat us, let them remain in Jos and if we defeat them, they should be prepared to also leave Jos.
' As it is now, we do not see any reason why any security agent should remain in Jos.  If they cannot assist us, they should leave.  We are not going to fight them with dangerous weapons like gun, cutlasses, clubs or charms. God that we serve will definitely fight for us.
'We know that God is seeing all that we are doing.  If they say they do not want us in Jos, where do they want us to go? I know that if we engage them in an open fight, our God will give us victory over them,' she stated.
Another Victim, Mrs. Debora Lanbe Danjuma, 27, recounted her experience thus:
'I am a mother of a four-year-old who was hacked to death in my presence for reasons I don't know. As you can see, I am seven-months pregnant.
On that fateful Sunday, we were on our way to the Church with my son and my late husband. We were in front of our house and I remember I forgot my handset and my husband went back inside to bring it. Suddenly we heard our neighbour shout. We saw a young man running towards us with wound shouting Madam, Madam run they are coming.   I could not move fast with the pregnancy and drag the boy along. I was trying to run when one of them just came and collected the boy from me. Before I knew what was happening, before my own eyes I watched them slaughter my son.
'As my husband was coming out to join us, somebody just shot him in the head and spilled his blood and brain on me. This is how I became a widow.' she managed to narrate before tears started to roll out from her cheeks.
On how she managed to escape from the marauders, she said she would be lying if she said she knew how she escaped.
'Only God can explain how I escaped. God can explain how I was not killed. The truth is that I don't know how I managed to escape, if I tell you how I escaped, I would be lying,' Deborah confessed.
Mrs. Lare Onu, who led the widows to the National Assembly captured the mood of the women and other victims of the last violence in Jos in her speech to the Speaker of the House of Representatives, Dimeji Bankole, after he personally came out to welcome and identify with the mourners.
'We are here this morning because of what is happening in Plateau state.  Innocent villagers were killed with children that were one month and two months old.  They were all slaughtered like animals.  Some of these villagers do not even know where Jos is. So why are you killing them?  They went to the remotest area of Jos to kill people.
'The question is what were the security men doing.  The solders were there, they were called and they did not come.  This thing started around 10'o clock and they did not come until 5 in the morning.  The Federal Government, the state government and the elders in Plateau have not told the truth about what is happening in Jos.
'We are talking about indigenes or no indigenes here, let us leave religion out of it.  Are there not Yorubas and Igbos in Plateau, why are they not fighting, why is it only the Hausa people that are fighting?
'What we know is that there are people behind these things and they are not telling us the truth.  The problem is that when our people want to retaliate, they will say stop.  We are saying enough, enough and enough of these things'.
The full message of Bankole was delivered by the House Leader, Tunde Akogun, who assured them that government will surely put an end to incessant killings in Jos or anywhere in the country.
Hon Bitrus Kase representing Jos South federal constituency in the House admonished the wounded women not to contemplate a reprisal, but allow God to fight for them. He urged them to fast and pray for God to rise on their behalf.