Great Britain needs TB Joshua NOW!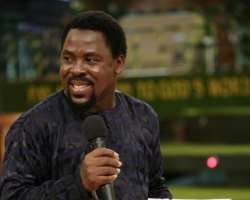 It is without a doubt that some of the greatest gatherings have been attended by Christian adherents; Figures shows that Millions of people have gathered at several places in different parts of the world to attend crusades, This figures is archived every Sunday since Emmnuel.tv started broadcasting the work of the Holy Spirit in the life of TB Joshua
Amidst the ponderous saga of some "holier-than-thou" men of God who tax their congregations to build schools, colleges and universities to which their (members) cannot afford to send their children due to exorbitant fees, Joshua has awarded scholarship to thousands of his members and even beyond. His consistent life style has already given proof of his individuality as a true servant of God. And the manifest hand of God that radiates through his ministration has drawn many non Christians and lost sheep back to Jesus Christ.
A close look at the circumstances of his life shows that Prophet Joshua was born with the natural requirements for a calling of an ideal tendency. In recent times, I have heard not less than three pastors, hitherto doubtful of Joshua's spiritual credentials, now testifying openly that TB is a true servant of God. One of them even confessed at a meeting recently, in which you were in attendance, as a testimony to his rising profile, Joshua, has a large flock of Christian believers in the world: Africa, Asia, Europe and Latin America and his mighty anointing power makes headline news in media houses around the world. Again, The Synagogue Church of All Nations, Lagos headquarters, has played host to many important dignitaries from across the world. The tremendous growth in population of his ministry apparently accounts for the equally large viewership of his television network program known as "Emmanuel TV" mostly from the United Kingdom. As a hard working, humble and dedicated spiritual leader who can shrink up the sundering seas, level intruding mountains, bridge gulfs and put a lamp in every tunnel; TB Joshua is undoubtedly a spiritual phenomenon whose corpus requires a large canvas. It is incontestable that the spiritual seriousness of the present times, so conspicuous in many Christians, is due in no small part to evangelical Christianity, which has influenced the beliefs of so large a segment of the world populace. For, much as practical evangelism has nurtured the need for a religious faith in our society, it has inadvertently made allowance for the major ideological developments of the age.
GREAT BRITAIN is in spiritual turmoil and urgently needs a man of God like TB Joshua to save her people from struggle to survive in a climate of increasing social instability and moral family decay. Political correctness in Britain has silenced the voice of conscience and the spiritual condition of the nation is at an all time low.
Violence and other social problem are rising. Politicians and those in authority are looking for a solution, but they cannot find an answer for they do not know where to look.
For decades Great Britain has been drifting further away from the Biblical standards that were once the bedrock of her values and good standing in the world.
With the flood of immorality and sin that has overwhelmed the United Kingdom there has also been an alarming decline in the social and moral welfare of the nation. This is due in no small part to compromise of doctrinal Truth by the church and a general abandonment of righteousness. The social conscience has become conditioned to immorality and many laws have been rewritten to accommodate the lowered standards.
In contrast God's standards of holiness and moral purity never change just as God never changes and therefore the moral laws of God's Kingdom will never be adjusted or re-written. Likewise the foundational standards of the true church should never change.
In the light of our present situation the British Believers can no longer continue to fail this nation...
We are therefore calling upon the Believers in Great Britain to take a stand for righteousness. God expects His people to be righteous and obey all of His commands. 'For the kingdom of God is not food and drink, but righteousness and peace and joy in the Holy Spirit' (Romans 14:17)
It is time to return to the old paths. It is time to return to righteousness and to once again lift up the banner of Truth in this land.
"TB Joshua told the coach what God had revealed to him",,,,,,,,,
Development / Ghana / Africa / Modernghana.com