Keshi won't have foreign technical assistant, wants Sylvanus instead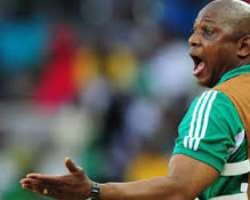 Super Eagles coach Stephen Keshi reportedly  rejected the NFF's offer of a foreign assistant, but would rather have  his former right-hand man, Sylvanus Okpala, restored to his bench.
Keshi currently has Daniel Amokachi, Ike Shorunmu and Valere Houandinou on his coaching staff and previously worked with Sylvanus Okpala, a former team-mate during their playing days, who was relieved of his duties after the 2013 African Cup of Nations victory.
The governing body gave Keshi free reign in the search for an international assistant, but the tactician insisted the only addition to his team that he approved of was that of Okpala, which the NFF refused to sanction.
"Stephen Keshi was offered the chance to choose a foreign assistant, who will work under him but he made it clear he was fine with his current assistants and backroom staff. The federation did this because they felt Keshi needed additional assistant," said NFF Technical Committee spokesperson Paul Bassey.
"But Keshi said he wanted one of his assistants, Sylvanus Okpala, to be recalled. The federation told him Okpala can't be recalled because he was sacked for insubordination.