CDD Holds Inaugural Edition Of Nigeria Political Party Discussion Series (NPPDS)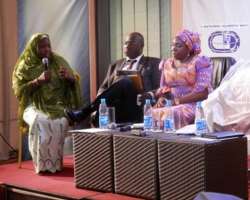 Centre for Democracy and Development (CDD) with support from International Republican Institute (IRI) held the inaugural edition of the Nigeria Political Party Discussion Series (NPPDS) at Protea Hotel, Apo, Abuja, Nigeria on February 5, 2014.
The meeting, which was attended by over 50 participants including members of the political parties, the diplomatic corp, civil society groups, media and government, was convened to facilitate a discussion on entrenching democracy and good governance through strengthened internal party democracy in political parties in Nigeria.
In her welcome address, Ms Idayat Hassan, Director, CDD explained that the discussion is not a debate but rather an engagement forum in which issues relating to internal party democracy can be constructively discussed and deliberated upon. She stressed that the concept was created to provide platform for interchange of ideas, sharing of experiences and learning. The series also provides opportunity for the Nigerians to ask questions and make their voices heard.
The vox pop screened at the beginning of the series indicated mixed reactions from Nigerians in that while some were completely not interested in political parties' affairs, others considered it a civic duty. There was also emphasis on lack of ideology and manifesto amongst others. Generally, the level of confidence and trust on political parties could be seen as very low.
The panelist comprising of Mr Osita Okechukwu of All Progressives Congress (APC); Barr Ebere Ifendu, Labour Party Women Leader; Alhaji Sani Shinkafi, All Progressive Grand Alliance (APGA) National Secretary; Mr Lai Labode of Peoples Democratic Party (PDP) Youth Forum; and Professor Simbine Taiye-Okosi, an expert, reacting to the views from the vox pop, conceded that political parties lacked a level of internal party democracy but differed on lack of manifesto. Members of the panel also differed on the view that most Nigerians are not following activities of the parties. It was also agreed that that there seemed to be failure on the part of political parties to educate the masses.
While setting the tone for the discussion, the moderator, Dr. Orji Nwachukwu, explained the concept of Internal Party Democracy and noted the concept goes beyond candidate selection but rather extends to registration, membership, and payment of dues, etcetera. He thereby invited the party representatives to describe the process of their respective party membership. Responding to his question, the APC representative said the party abides by its constitution and manifesto and recruits members from polling units across the country. The APGA representative itemized the party requirements as thus; citizenship, age and ability to contest election once registered as a member.
The Labour party representative emphasized that there is no restriction in the party and also noted that the party is for the masses. On his part, the PDP representative said the party has started to revive its youth wing to encourage more youth to join the party. On the benefits of political parties having members, Prof. Simbine lamented that Nigerians lacked knowledge on how to become a member of a party. Elaborating on the issue of party membership, she stressed that parties have members, supporters and gladiators and while many appear to be supporters and members who have little stake in decision-making process, the gladiators are the movers and shakers of the entire process. She also pointed out that parties must have register.
On expulsion, it was generally shared by the representatives of political parties that principles of fair hearing and due process in undertaking cases of party members accuse of antiparty activities are strictly adhere to. Mr. Labode of PDP posits the party has process of fair hearing for accusations such as anti-party activities. Barr. Ifendu said the party must first write to inform the member of the accusations, thereafter followed by a process of fair hearing. On getting parties involved in deliberations, Alhaji Shinkafi of APGA said the party has committee's across the six geo political zones. He also emphasized the incorporation of women, youth and other persons with disabilities. Mr. Okechukwu of APC stressed the parties' stance on tapping into the 60% youth in Nigeria. In all, Prof Simbine noted that it is important to involve members in all levels of decision making through voting which could be done through the use of phones, internet, at ward level, public debate and at consultation meetings.
Responding to questions on how parties make their laws, Alhaji Shinkafi of APGA noted that party laws are collective effort of party members. He therefore identified National Convention as the highest body, NEC, and the National Working Committee as institutions through which laws are made. My Labode of PDP, affirming National Convention as the highest decision making body, maintained that the presence of lots of engagement in the process is essential. Responding to the poser on whether proposed party submission of constitution to INEC before registration affects internal party democracy, Prof Simbine said the draft could be revisited afterwards, but however expressed worry over constant change of constitution especially as done by PDP. She encouraged the use of vertical and horizontal steps or procedure. Reacting to neglect of less privileged groups such as women, she added that efforts must be made to distinguish between concepts of representation and involvement.
Similarly, it was also agreed among panelist that continuous voter education from different angles involving parties, INEC and educated people is the way out of religious and cultural inhibitions affecting mostly women in the northern part of the country. The panelists also agreed on some other measures such as:
1. To increase membership drive through ensuring a free and fair processes;
2. Engaging in innovative approaches to registration such as youth and use of social media;
3. Jettisoning use of money bags and godfatherism;
4. Attitudinal change especially on the part of party leadership by placing party interest over individual interest;
5. Imbibing mechanism of internally generating funds through annual membership dues;
6. Involving members at all levels in a transparent process.
The meeting concluded amidst several appreciations and anticipation of other editions.
2014-02-07 100417
2014-02-07 100403
2014-02-07 100341
2014-02-07 100328
2014-02-07 100312
2014-02-07 100256
2014-02-07 100242