Court fixes April 3, 4 for EFCC's case against Gbenga Daniel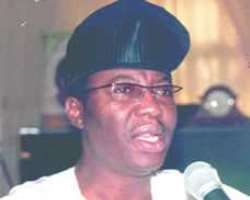 The Ogun State High Court  presided over by Justice Olanrewaju Mabekoje,  has fixed April 3 and 4 for the commencement  of trial of the case brought against the former governor of the state, Gbenga Daniel by the Economic And Financial Crimes Commission, EFCC.
Daniel is facing charges of financial impropriety and fraud committed during his tenure as governor in the state. .
Mabekoje said the decision was  to allow parties in the case to prepare for the commencement of trial after a long lull, occasioned by the defendant going to the appellate court sitting in Ibadan, the Oyo State capital to seek for the quashing of count 1 to 13 of the 28 count charge preferred against him.
The Appeal Court sitting in Ibadan had ruled over the 13 count charge bothering on illegal conversion of some state landed property by the former governor, saying he had a case to answer.
The case was adjourned in November 2013, when counsel to Daniel, Mrs Titilola Akinlawon, pleaded for an adjournment to a date exceeding January 28, 2014, when the judgment wouldhave been given in respect of the appeal.