North's clamor for presidency rubbish – Shekarau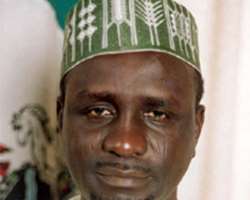 Former Kano State Governor, Mallam Ibrahim Shekarau, has berated those clamoring for a President of the Northern extraction in the 2015 Presidential election, describing their calls as 'rubbish'.
Fielding questions from State House correspondents at the end of his meeting with the Vice President, Arch Namadi Sambo, he said he had always kicked against the idea of localising the Presidency to a particular region, adding that it was only lack of confidence in oneself that could bring about the clamour for rotational presidency.
"I have never subscribed to the argument of localising the Presidency to a particular region. If you had followed my arguments and my presentations or debates in the presidential election, I said so. My concern is what do we do to get the right leadership regardless of where it is coming from.
"This issue of rotational presidency is not the issue. What we should be talking about is balancing so that we carry people along. Today, if I am a presidential candidate from Kano and I tell you that my running mate is from Katsina, won't you think I am crazy?
"Do I have to have that written in any document or constitution for me to know that if I am a presidential candidate from Kano, my running mate has to come from the other side? There is the law and constitution of common sense.
"So this argument that it has to be my turn and it has to be my village man is all rubbish. It is the problem of lack of confidence among ourselves Nigerians," he said.
When asked whether he was ready to campaign for President Goodluck Jonathan if he emerged the party's candidate in the nest election, Shekarau said whoever turned out to be PDP candidate at any level is his candidate.
The former governor insisted that Kwankwaso's defection would not have any negative effect on the party because he had left the PDP long before he defected formally.
He accused the governor of busy running the Kwankwasiya movement which he described as a cult group.
"His (Kwankwaso's) defection cannot kill PDP. Those who are current with situation on ground knew that the governor of Kano had long before now been out of PDP. What he is running is Kwankwasiya, a cultism kind of a group.
"PDP has always been there, so what we are doing is we are now joining PDP and his group has gone into APC. We shall see whether we are the ones on ground or the Kwankwasiya APC.
"We checked out from the APC when we discovered that some of the principal actors in the merger did not mean well," he added.
On whether his ideology and that of the PDP are the same, the former governor said  all political parties have the same plan of moving the nation forward.
He said they are all heading towards the same destination, although they may be taking different routes.
Shekarau described his meeting with Sambo as a continuation of his consultation on how to move the PDP and the nation forward.
"It was not a special meeting. It was a continuation of rubbing of minds. I am now part and parcel of the PDP family, I will always be meeting with one party functionary or the other to continue to rub minds on how we will move the party and the nation forward," he said.