2015: New Northern group back's President Jonathan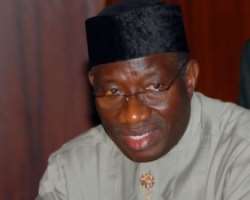 The Northern Elders Council (NEC), a new sociopolitical group headed by Alhaji Tanko Yakasai, on Thursday pledged to back President Goodluck Jonathan in 2015.
A communique issued at the end of the inaugural meeting of the group in Kaduna, said it was fully committed to support the president.
The communique signed by Amb. Yusuf Mamman, stated that the group "pledges its full support and commitment to work for the success of President Goodluck Jonathan and Vice President Namadi sambo".
It said that Nigeria had recorded tremendous leadership under the present administration, and pledged to work with other Nigerians to thwart the activities of "anti democratic forces".
On National Conference, the NEC supported the initiative, saying it would help to strengthen the bond of unity among Nigerians.
The council noted with concern, the raging insurgency in some part of the North -East and pledged to mobilise the people to bring about peace to the area.
They commended President Jonathan's transformation agenda, especially the setting up the Almajiri schools, support for girl childhood education and development of the power sector.