Chief of Defence Staff promises new strategy in fight against Boko Haram insurgency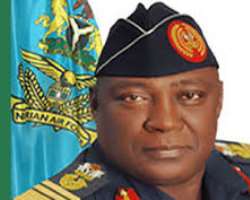 The newly decorated Chief of Defence Staff, Air Marshal Alex Badeh, said Wednesday that  the new set of Service Chiefs will deploy new strategy to bring the Boko Haram insurgency in the north-east to an end before the general elections in 2015.
Badeh's  earlier promise to  to end the Boko Haram insurgency by April this year was roundly criticised by Nigerians who believed it was unrealistic and not well thought through..
The new defence however  gave the latest the assurance at the official swearing-in ceremony of the new Service Chiefs by President Goodluck Jonathan which held at the Presidential Villa in Abuja on Wednesday.
In his remarks, the President Jonathan said the Federal Government would not sleep 'until the war against terror is worn in the north east and the people of Borno can sleep'.
President Jonathan urged the Service Chiefs to ensure that they conquered terror and pointed out that they would face hard times ahead.
He expressed belief that the new security personnel would work together with other intelligent agencies to ensure that the 'war on terror' would be won.
According to the President, the new team will rescue the country from the 'stronghold of terror'. In turn, he tasked them not to disappoint the Nigerian people.
Air Vice Marshal Alex Badeh, who said that the terror situation in the country was not new, expressed optimism that the new strategies, which would be brought to the table, would enable the security forces' fight and dislodge the insurgents in the North East before the general elections.
The ceremony was conducted before the commencement of the weekly Federal Executive Council meeting.
The decoration is following a clearance by the National Assembly, the first of its kind since the inception of the democratic process as required by the law.
The newly decorated Service Chiefs are; Air Marshal Alex Badeh, who is the new Chief of Defence Staff, Major General Jacob Minimah, the Chief of Army Staff, Rear Admiral Usman Jibrin the Chief of Naval Staff, and Air Vice Marshal Adesola Amosu, the Chief of Air Staff.