PRO-THAKSIN DEMONSTRATORS REACH BANGKOK AHEAD OF RALLY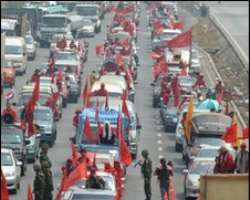 Security forces are keeping a watchful eye as protesters stream into Bangkok
Thousands of Thai opposition demonstrators are converging on Bangkok to press their demands for elections.
The "red shirt" protesters are mainly supporters of former Prime Minister Thaksin Shinawatra, who was ousted in a military coup in 2006.
Organisers insist the protests – due to culminate in a big rally in the capital on Sunday – will remain peaceful.
The government has deployed about 40,000 security personnel and set up checkpoints to prevent any unrest.
The Internal Security Act has been invoked, giving the military extra powers to impose curfews and restrict numbers at gatherings.
The last major protests, in April last year, turned violent, with two deaths and dozens of people injured.
The red shirt movement, led by the United Front for Democracy against Dictatorship (UDD), say they will rally until Prime Minister Abhisit Vejjajiva calls new elections.
The protesters say Prime Minister Abhisit came to power illegitimately with the backing of the military and the Bangkok-based elites.
Mr Thaksin's main power base was in the rural north. The BBC's Rachel Harvey – in north-eastern Udon Thani province – says people there have neither forgotten nor forgiven his removal.
Mr Thaksin, who was ousted amid allegations of corruption and abuse, is now living in self-imposed exile.