Ekiti 2014: Ex-PDP Lawmakers Declare Support For Adeyeye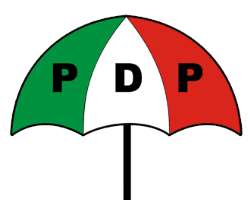 Peoples Democratic Party (PDP) members in the Ekiti State House of Assembly between 2003 and 2007 have declared their support for one of the party's governorship aspirants, Prince Dayo Adeyeye, saying; "with Adeyeye as PDP candidate, victory is sure."
Speaking on behalf of the former lawmakers, the first PDP Speaker and Deputy Speaker in the State House of Assembly, Hon Sola Ajigbolamu and Hon Taiwo Olatunbosun respectively, said; "from his character, antecedents and academic qualifications, Adeyeye fits into the kind of governor Ekiti State desire at this time."
Ajigbolamu and Olatunbosun, who were the Speaker and Deputy Speaker under the Ayodele Fayose regime, urged the national leaders of the PDP, especially President Goodluck Jonathan to support the agitation for the South Senatorial District to produce the next governor by presenting Adeyeye to the Ekiti PDP as its governorship candidate.
They said the PDP must present a candidate that will be acceptable to the elites in the State, not one that will be resented by traditional rulers and top citizens of the State.
"We are speaking on behalf of majority of the PDP members in the State House of Assembly between 2003 and 2007.
"As the Speaker and Deputy Speaker, we are declaring to the public that it is Prince Dayo Adeyeye that we want as our governor.
"Adeyeye posses the kind of credentials that no one can fault. He is a lawyer, journalist and a teacher. Above all, he is also an activist, who has played prominent roles in groups like NADECO and Afenifere.
"As Chairman of the State Universal Basic Education Board (SUBEB), he performed creditably well, winning awards upon awards. His landmark achievements in SUBEB are enough for us to campaign for Adeyeye's election and we urge that he (Adeyeye) be picked as our party's consensus candidate."
While calling on other aspirants to support Adeyeye, the former lawmakers said; "from all indication, Adeyeye is the choice of the majority and what is necessary is for other aspirants to support him."